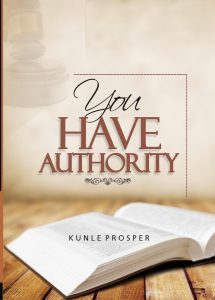 About You Have Authority:
If you are a believer, you have God-given authority over the devil, demonic agents, sickness, disease, and over every power of the enemy.
This authority becomes yours by the right of redemption through the Lord Jesus.
By this delegated authority, you can put Satan and his agents where they belong.
You can heal the sick, raise the dead and cleanse the lepers.
You can make positive impacts for God in your generation.
Buy the book, and follow the author on social media:
Learn more about the writer. Visit the Author's Website.
Buy the Book On Amazon.
Visit the Facebook Fan Page.
Visit the Twitter page.

Author Bio:
Kunle Prosper is a minister of the gospel called into active pulpit ministry to preach the Word of His Grace for the Liberation of God's people.
He is currently the visioner of Great Great Global Mission, a reconciliation ministry in Accra, Ghana.
This ministry has been actively involved in spreading the good news and in healing the nation.
Kunle Prosper is married with children.