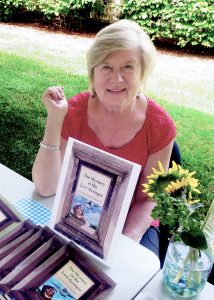 Featured Interview With Linda Maria Frank
Tell us a little about yourself. Where were you raised? Where do you live now?
Born and bred in Queens, N.Y. I still live on Long Island and love being near the beaches and marshes. I have two cats, Max and Lola. I have had a very long career in teaching, from 5th grade to graduate school. I taught the sciences, and an introductory course in forensic science that I taught in both high school and college got my writing simple mysteries for my students to solve.
At what age did you realize your fascination with books? When did you start writing?
I became a reader when I discovered the Nancy Drew mystery series. Nancy made me a life time reader. It was many years later, and many books later that I discovered that my talent for story telling could be turned into books.
Who are your favorite authors to read? What is your favorite genre to read. Who Inspires you in your writings?
I love historical fiction. Current favorite author is Diana Gabaldon and the Outlander series. Besides the romance and thrilling exploits of the characters, I love the herbal medicine and healing arts aspects of the books.
I think Stephen King is my inspiration as a writer. The way he draws his characters, making the human ones so very human is a great model for me in the development of my characterrs.
Tell us a little about your latest book?
My latest book which is part of the Annie Tillery Mystery Series is the Mystery of the Lost Avenger. It was a labor of love for me to reasearch what the women of my mother's generation did to help win WWII.
This fourth book in the Annie Tillery Mystery series falls into the genre of young reader, between children's chapter books and young adult. However, older women who grew up reading Nancy Drew love this book. The story works on several levels, a ghost story, a romance, the technical side of weaving clues to solve a mystery, the history of women in WWII and the espionage that happened in that war.
The wreckage of a World War II plane is found in the mountains of Appalachia in 2014. It mysteriously crashed in 1943 on its way to a naval base. Inside the plane is a note, written by Annie Tillery's great grandmother, Charlotte, who was in love with a fighter pilot. Young Charlotte tested the planes and flew them to naval bases; her fiancé flew the planes in battle.
While investigating the crash site, NCIS finds the note in the plane, which they trace to Charlotte and then to her surviving family members, Annie and her mother Carol. Annie struggles with Carol's new sobriety with her addiction to alcohol, which in the past, caused an estrangement between them.
The mystery begins. Why did the plane crash, and what does Charlotte's note mean? Annie and her mother decide to dig into Great-Grandmother's past by way of the family attic.
There, they find love letters written by Charlotte and her Navy pilot fiancé. A code to be broken in those letters hints of sabotage. As they explore, Annie suspects Charlotte's ghost is reaching out to tell her something, but what? She enlists the help of her boyfriend, newly licensed pilot Ty Egan, but Annie feels she may be the key to her great-grandmother's top-secret life. She means to find out how.
Connect with the Author on their Websites and Social media profiles
Linda Maria Frank Facebook Page