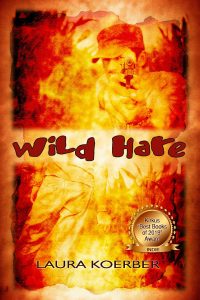 About Wild Hare:
WILD HARE IS LISTED ON KIRKUS REVIEW AS ONE OF THE BEST INDY BOOKS OF 2019
" Wild Hare is a fast paced work of apocalyptic and dystopian fiction penned by author Laura Koerber. Combining such varied concepts as fantasy and magic with climate change and political domination is no mean feat, but the plot of this adventurous tale does just that," Readers' Favorites
Starred review in Kirkus Review:
"The story manages to weave together a complex tapestry of themes, from climate change to poverty to what qualifies as morality in a world that's facing catastrophe. The prose is clear and concise throughout, giving readers a sense of each scene and character through the protagonist's eyes.
A wrenching, complex novel that any fantasy fan would do well to pick up."
Buy the book, and follow the author on social media:
Buy the Book On Amazon.

Author Bio:
I live on a island in the Puget Sound with my husband and my dogs. I am a retired teacher, presently doing in -home care for disabled people while volunteering at a dog rescue
My degree is in art, and I am a painter, graphic artist, and ceramic sculptor. The writing started about five years ago, a surprise to me and everyone who knows me, since I had never written anything before.
The review for my first book in Kirkus Review: https://www.kirkusreviews.com/book-re…
I think I learned to write by reading. I am a voracious omnivore of books