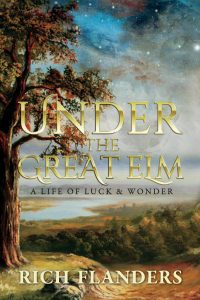 About UNDER THE GREAT ELM – A Life of Luck & Wonder:
Sweeping from the Illinois countryside to the plains and mountains of the American West, from the cafes of Paris to the Gaza Strip, and from the tropics of India to the rhythms of Broadway, this is a story of hope and inspiration for our time.
Swift, lyrical, often astonishing, it is a tale of high adventure, of love lost and found, a lifelong journey of enlightenment, and remarkable interspecies encounters.
Laced with a sense of wonder and humor, this is a compelling and unique masterpiece of nonfiction that all readers will enjoy.
Buy the book, and follow the author on social media:
Learn more about the writer. Visit the Author's Website.
Author Bio:
Rich Flanders, a graduate of San Francisco State University and The American Musical & Dramatic Academy, appeared on Broadway in "Shenandoah" and in the first national company of "Annie." His albums, "Yondering" and "Ride Away," were each nominated Album of the Year by The Academy of Western Artists and The Western Music Ass'n. He received a Stephen Vincent Benet Narrative Poetry Award from "Poet Lore" magazine, and he is a recipient of The Will Rogers Cowboy Award from The Academy of Western Artists. His new book, "UNDER THE GREAT ELM – A Life of Luck & Wonder" was a Finalist for the 2021 American Writing Awards and received 5 Stars from Readers' Favorites. He and his wife, Anne, live on the Connecticut shoreline, where they perform music together from the Great American Songbook.