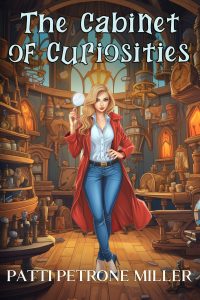 About The Cabinet of Curiosities:
In the quaint town of Hemlock Hollow, where the echoes of mystery linger in the air, an ancient cabinet filled with supernatural relics hides a dark secret. Unbeknownst to the unsuspecting townsfolk, this cabinet becomes a vessel for unimaginable chaos when the relics come to life, threatening to unleash their otherworldly powers upon the town.
At the heart of this gripping paracozy mystery is our courageous heroine, Julietta Evens. An enigmatic woman with a deep connection to the supernatural, Julietta finds herself drawn to the cabinet's dark energy. Despite her own troubled past, she resolves to protect Hemlock Hollow from the malevolent forces that have awakened within the relics.
But Julietta can't face the enigma alone. Enter Detective Max Martin, a hardened skeptic with a reputation for unraveling the most perplexing cases. Initially dismissive of the cabinet's supposed powers, Max is reluctantly thrust into the heart of the unfolding chaos. Bound by duty and his growing admiration for Julietta's unwavering determination, he becomes her unlikely ally in the fight against the supernatural.
As the cabinet's influence spreads, Hemlock Hollow becomes a battleground for the forces of good and evil. Ghostly apparitions haunt the deserted streets, ancient curses reawaken, and the once-peaceful town is transformed into a nightmare. With each passing day, the townsfolk become unwitting pawns in the relics' sinister game, their lives hanging by a thread.
Julietta and Max delve deeper into Hemlock Hollow's dark history, unearthing long-buried secrets and piecing together the fragmented clues left behind by those who came before them. Their perilous journey takes them from dusty archives to eerie graveyards, encountering vengeful spirits, occult rituals, and a web of deceit that shrouds the town in darkness.
As the stakes grow higher, Julietta and Max's bond deepens, fueled by their shared purpose and their growing understanding of the supernatural realm. They must confront their own demons, both literal and metaphorical, and learn to trust in each other's strengths if they are to vanquish the malevolent power that holds Hemlock Hollow in its grip.
In this pulse-pounding tale of suspense, action, and raw emotion, The Cabinet of Curiosities invites you to experience a world where the line between the ordinary and the supernatural blurs. Brace yourself for an unforgettable journey filled with heart-stopping twists, unexpected alliances, and the ultimate battle between light and darkness, as Julietta Evens and Max Martin face their fears head-on to protect the town they've come to call home.
Buy the book, and follow the author on social media:
Author Bio:
"Where the Magic Happens"
Patti is an accomplished Executive Producer, overseeing the creation of an animated made-for-television series based on the heartwarming book, "ELLIOT FINDS A HOME." The book tells the tale of a remarkable little dog with opposable thumbs, whom nobody wanted, and his nonverbal companion with Autism, who discovered him in a cold and daunting shelter. Their extraordinary bond forms the core of this touching story.
Represented by Polygon Entertainment, Patti is a USA TODAY Best Selling Author, boasting the title of a prolific #1 Best Selling Author on Amazon an impressive nine times. With an astonishing portfolio of 7 dozen published books, she effortlessly delves into a myriad of genres, including Urban Fantasy, Paranormal, Steampunk, Historical Romance, High Fantasy, YA, MG, Cozies, Thrillers, and Horror, among several others. Her dedication to the craft of writing spans over four decades.
Notable Experiences:
Patti's extraordinary journey began at the age of 4 when she appeared on the popular show "Romper Room" alongside her older sister. Throughout her life, she has had the opportunity to encounter several prominent figures, such as Captain Kangaroo and Mr. Green Jeans, and even shared a memorable train ride with Sidney Poitier, engaging in fascinating conversations. The legendary actor's kind gesture of buying her a sandwich and soda during their trip left an indelible mark on her memory.
Additionally, she cherishes unforgettable moments like sitting next to President Nixon in his box at the Ringling Brothers and Barnum Bailey Circus, where she had the honor of exchanging greetings and shaking his hand. Her life's journey has been intertwined with remarkable individuals, including attending school with David Copperfield, knowing Jon Bonjovi, and roller skating with John Travolta before he attained fame. She even shared warm cups of hot cocoa with Abe Vagoda after school.
Intriguing Background:
Beyond her literary accomplishments, Patti wears various hats, embracing roles as a teacher, mother, grandmother, and devoted furparent. Her warm and welcoming nature leads her to relish the experience of meeting new people and thriving in crowded environments. She deeply values her readers and warmly encourages them to connect with her through various social media platforms. She delights in hearing from her fans and cherishes their support.
An Enchanting Focus:
Often referred to as the "Queen of Halloween," Patti's written works beautifully embrace themes of spookiness, the supernatural, and the paranormal. A practicing Wiccan High Priestess, her profound spiritual beliefs resonate throughout her writing. Her captivating stories, releasing with renewed vigor this year, promise to enthrall readers, making it an exciting time to follow her FB page for updates on fresh releases.
In conclusion, Patti's creative prowess shines through her diverse literary ventures and the captivating tales she weaves. Her passion for storytelling, coupled with her engaging personality, creates a unique bond with her readers, solidifying her place as an esteemed author in the realm of English literature.