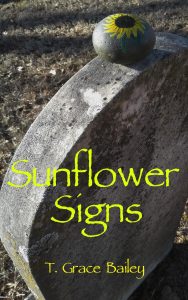 About Sunflower Signs:
In our darkest hour, can a deceased love offer guidance? Emily Mason has never been able to escape the grief she feels over the death of her childhood love and hero, Danny – though it's been almost nine years since he passed away. She will sometimes even sleep on his grave for comfort. She can't seem to do anything right in the eyes of her husband, Scott – who reprimands Emily about everything from her messy handwriting, to singing Christmas songs outside of the month of December, to her inability to bring home enough groceries in her bike basket. She depends on her reluctantly psychic older sister, Ericka, to always come to her rescue when she is in peril – which is often. Her fears are many – she's terrified of people dressed in costumes, thunderstorms, and she refuses to drive a car. Just when Emily's life begins to completely unravel, Danny leaves her a sign that can't be ignored. Emily is faced with making a decision that will take her far away from the security of her sister's care, and the comfort of being near Danny's final resting place. Sunflowers Signs is a quirky, funny, and emotional story about love, family, and the connections we keep with those who have passed over to the other side.
Buy the book, and follow the author on social media:
Author Bio:
I was put on this earth to write. I left a six-figure job to do it. I also grew balls and finally moved back home to Maine, after being away for 34 years. I am so at peace here on the ocean! I am a believer in life continuing on after death, and that's what my book is about. Please find laughter, comfort, and maybe a little magic in my novel.