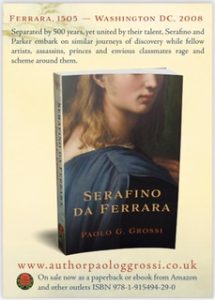 About Serafino da Ferrara:
Ferrara, 1505 AD. Talented Serafino is apprenticed to Mastro Filargiro, one of the city's leading artists.
Serafino finds love, but his mastery takes him on a perilous journey across Italy's feuding city-states, unaware that his virtuosity is a threat to the pre-eminence of the hitherto unchallenged masters of the Renaissance.
His life must take a dramatic new turn in the hope of escaping their enmity.
Washington DC, 2008. Parker's first year at Georgetown High is coming to an end.
His father is appointed Consul General in Florence. Parker enthusiastically embraces his new life and befriends handsome Beppe.
But almost everyone around him has been keeping secrets. And the fifteenth-century palazzo where his family now lives unexpectedly reveals its long-buried mysteries.
Separated by five hundred years, yet united by their talent, Serafino and Parker embark on similar journeys of discovery while fellow artists, assassins, princes and envious classmates rage and scheme around them.
Buy the book, and follow the author on social media:
Learn more about the writer. Visit the Author's Website.
Author Bio:
Paolo G. Grossi was born and raised in Milan. Thirty years ago he spent a weekend in London and decided to stay. Like most Italians, opera and the visual arts are his main passions. When not writing, you will surely find him attending a performance, visiting a museum and, of course, spending some time cycling in Berlin or around the Wannsee. He lives in London with his partner David.
After the success of The Tiergarten Tales, Serafino da Ferrara is his second book.