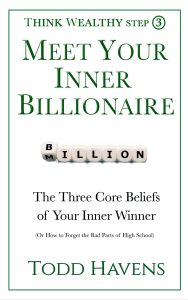 About Meet Your Inner Billionaire: The Three Core Beliefs of Your Inner Winner (Or How to Forget the Bad Parts of High School):
Retire rich and spend it all. Or create lasting wealth for your family as a first-generation millionaire. Or simply get a good night's sleep because you are finally in control of your finances.
The choice is yours when you "get" the simple rules of money and start to Think Wealthy.
In Meet Your Inner Billionaire: The Three Core Beliefs of Your Inner Winner, Todd Havens, a debt-free dad and first-generation millionaire who spent his 20s and 30s as the "poorest guy in any room," walks you through the third of his six-step Think Wealthy Personal Finance series with a sense of humor so you can master your money and set yourself up for financial safety, security and freedom for life.
Meet Your Inner Billionaire will show you:
– Why Your Inner Billionaire Is Introverted
– Who You Really Are
– What Everyone Gets Wrong about Be-Do-Have
– How Your Life Works Starting with the Thoughts You Have
– The 3 Core Beliefs of Your Inner Billionaire
– A List of Your Inner Billionaire's Empowering Thoughts
And more!
Not understanding money is not our fault, of course. When the majority of Americans do not even have $1,000 set aside for an emergency, the system is obviously broken.
Fortunately, having confidence with every financial decision you make is much easier than you might think. Are you ready to meet you inner billionaire?
Buy the book, and follow the author on social media:
Buy the Book On Amazon.
Visit the Facebook Fan Page.

Author Bio:
As a debt-free (and now cancer-free – thanks, 2021!) dad, I LOVE talking and writing about money because for years and years (and years) I was the poorest guy in any room. Who else but the broke guy would dream of one day having a zero net worth and feel like he was a financial genius? Insanity.
No one ever taught me everything they knew about money so I had to do it myself – I've studied the financial habits of millionaires and billionaires – and now I've made it my mission to help others learn to Think Wealthy, global pandemic or not, and completely transform their lives like I did. What a ride! So much gratitude for the journey.
In other news, I am a brand and marketing executive in Hollywood and, in my volunteering time, I save awesome digital movie marketing campaigns from extinction (kind of like a digital Indiana Jones), I love craft beer and having the big conversations in life with friends because…as both Madonna and Socrates said…an unexamined life is not worth living. (I'm not sure who said it first.)
Stay safe in these strange times and I hope you'll join me on the path to financial freedom.