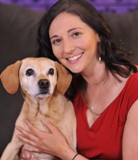 Featured Interview With Sheryl Green
Tell us a little about yourself. Where were you raised? Where do you live now?
I was born and raised on Long Island in New York and lived there until I was 26. I now live in Las Vegas and love it! My baby girl Akasha is a Beagle/Lab mix that I rescued from North Shore Animal League before I left New York and she's been with me ever since.
At what age did you realize your fascination with books? When did you start writing?
I got into reading when I was around 10 years old. My grades were slipping so my parents took away my television privileges. I started reading The Baby-Sitter's Club and Sweet Valley High and they sparked a life-long love of books.
After my divorce, I turned to writing as a cathartic practice. I wrote 3 novels and then began writing nonfiction books and content for businesses.
Who are your favorite authors to read? What is your favorite genre to read. Who Inspires you in your writings?
My degree is in Forensic Psychology so I've always loved Mystery. My favorite authors are J.D. Robb and Harlan Coben. I also read a lot of nonfiction books for personal development and business. My favorite books I've read this year are "Start Something That Matters" by the founder of TOMS Shoes, "You Are a Badass" by Jen Sincero, and "Unfu*k Yourself" by Gary John Bishop.
Tell us a little about your latest book?
"Do Good to Do Better: The Small Business Guide to Growing Your Business by Helping Nonprofits" is all about how standing for a cause in your business will help you differentiate yourself from the competition and make more sales.
I've spent years begging for donations for animal rescue. When I discovered Cause Marketing, I realized that nonprofits can help businesses, not just stand there with their hands out. I've used the techniques in this book with the animal rescue I volunteer with and have had friends double their business since they started supporting a nonprofit. It's good for business and the soul!
Connect with the Author on their Websites and Social media profiles