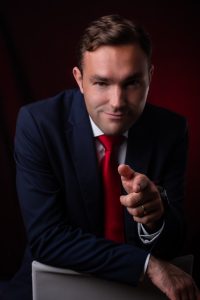 Featured Interview With Peter Kos
Tell us a little about yourself. Where were you raised? Where do you live now?
Hi!
I'm Peter, and I come from Ljubljana/Slovenia. I'm a corporate sales leader and a lifelong learner. I currently live in Slovenia's capital – Ljubljana. It's a beautiful country and town in Central Europe, with everything close by – the Alps for hiking/climbing/skiing are an hour's drive away, so is the Adriatic Sea. One hour drive to Italy to the west, Austria to the north, Croatia to the east, or one and a half-hour ride to Hungary to the north-east.
I live here with my wife and two kids, and in the normal (non-pandemic) times, I travel a lot for business. I'm on a plane every week, as I'm running the channel sales in 28 countries.
At what age did you realize your fascination with books? When did you start writing?
I've been a non-typical problem child and a bully that loved to read. The more I read, the less problematic I was, as it helped me realize there's a whole better world out there for me. I just needed to get out of the blue-collar working-class mentality.
I've been writing since my teenage years, but only in the last decade have I switched to writing everything in English. Despite it being my third language, I adopted it as my language of learning and it became my thinking language as well.
I've written my first book in 2020 and am getting ready to launch the next one for pre-orders – it's planned to be released by November 2021. I'm writing on non-fiction lifestyle and business topics. During the 2020 pandemic, I decided to share more of my writing, so I also started a blog and a weekly newsletter at peterkos.org
Who are your favorite authors to read? What is your favorite genre to read. Who Inspires you in your writings?
My favorite author is Seth Godin, but I enjoy Tim Ferris, Malcolm Gladwell, and others just as well. Over 85% of my reading is non-fiction, but I occasionally devour one of Stephen King's gems.
Tell us a little about your latest book?
The Elements of Lifestyle: Find Your Enough is a story on living a joyous life by:
– applying intentional life design
– following the path of kaizen — small, incremental improvements
– and finding your enough.
Many popular turnaround stories start with hitting bottom — addiction, heart attack, a health scare, loss of something. But The Elements of Lifestyle is a story of taking control without — or before — a complete derailment. It's a story of personal compound interest, about small things adding up.
Life isn't made of the significant milestones; it's made of all the days and weeks in between.
I believe that the secret to experiencing a joyous life is in finding your enough — that middle path between excess and scarcity. You have to journey through your personal walkabout to pursue your enough. The path might be challenging, but it's worth it — and it's going to be fun.
Because one day you wake up and you're forty, sixty, or whatever, and you look in the mirror, and you have to look yourself in the eyes. And then you'll gaze in the rearview mirror and wonder. —It is up to you if you'll wonder of joy or wonder what the fuck happened to me. It all starts today.
The backstory: I was an overweight corporate roller in my early thirties, who smoked, ate, and partied too much; I was riding towards the heart-attack-land.
But then I read Nigel Marsh's book titled Fat, Forty, and Fired – and I decided to change my trajectory.
This book is one of my dreams come true: publishing a creative work while turning forty without being fat (or fired).
I've written this for my children, Diana and Peter Jr.
It's a book that my teenage self would love to find among the shelves of that public library back in Maribor, Slovenia.
I found joy in my life, and I wish for my children – and anyone else reading this book – to find it as well. The secret is in finding your "enough." –That middle between excess and scarcity.
Connect with the Author on their Websites and Social media profiles