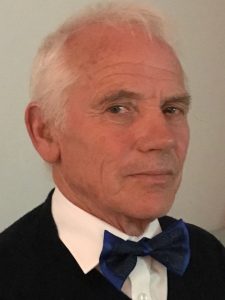 Featured Interview With Michael R D James
Tell us a little about yourself. Where were you raised? Where do you live now?
Michael R D James was born in South Africa and lived in Cape Town for 16 years. He travelled to England and was educated at Grammar School, Exeter University (B.ed) and Birmingham University (B.A and M.A. in Philosophy). He moved to Sweden in 1979 and has lived there for 38 years, taking his doctorate at Uppsala University in 1987 in Kantian Philosophy. For the past 24 years he has been lecturing in the International Baccalaureate Program (IB) and teaches the subjects of Philosophy, Psychology, and Theory of Knowledge at Sigtunaskolan Humanistiska Läroverket (the Alma Mater of Olof Palme, the present King of Sweden, Curt Nicolin, Peter and Marcus Wallenberg and Carl Bennet) He introduced World schools Debating into Sweden and was the Swedish Schools team Manager between 2008 and 2013, coaching the team at the World Championships at Qatar and Dundee. His trilogy "The World Explored, the World suffered" is both an attempt, firstly, to bring student life into the arena of everyday existence and also, secondly, an attempt to introduce the curious to the study of Philosophy. He enjoys reading, travelling, exercising, listening to music, being with his family, and walking his dog. He currently lives in Uppsala.
At what age did you realize your fascination with books? When did you start writing?
Agatha Christie was my favourite author when I was ca 12 years old.
Began writing and publishing poetry when I was 19
Who are your favorite authors to read? What is your favorite genre to read. Who Inspires you in your writings?
Larence Durrell, Shakespeare, Dickens, Hardy, Laurens van der post, V S Naipaul:– favourite authors.
Lawrence Durrell and poets like T S Eliot, Dylan Thomas, RobertFrost, W B Yeats inspire me
Serious literary fiction and academic Philosophy are what I read most
Tell us a little about your latest book?
The World Explored, The World Suffered: The Exeter Lectures is the first part of a trilogy and is a work of philosophical/ educational fiction. Its fictional component is composed of a middle-aged Romeo-Juliet drama which ends with two deaths in Venice and a youthful adventure that takes Robert, the narrator from trauma in South Africa to a teacher training institute in England where he discovers Philosophy and befriends an alcoholic lecturer who had once studied under Wittgenstein.
The educational component is composed of a series of lectures on the philosophy of religion, psychoanalysis, aesthetics, ethics, the philosophy of natural science, human science and mathematics, philosophical psychology, political science, philosophy of education. Three different lecturers introduce the reader to the world of Philosophy and the world of Education seen through the eyes of Socrates, Plato, Aristotle, Descartes, Hobbes, Hume, Kant, Schopenhauer, Freud, William James, Wittgenstein Heidegger, Sartre, Merleau-Ponty, Arendt, Quine, Cavell, Paul Ricoeur, Brian O Shaughnessy, R. S. Peters, Paul Hirst, Hudson, Adrian Stokes, T S Eliot, Julian Jaynes.
The book attempts to take the reader on a philosophical journey from curiosity to commitment and it is hoped that the trilogy will serve as a general introduction to Philosophy for all who are curious about the eternal Philosophical questions such as "What is the nature of Reality?" "Is God merely an idea in our minds?" "Is the soul a function of the body?" What is Justice?" "What is ethics?" "What is the role of Education in the life of the individual and society?"How should we characterize the feeling of the sublime?" "How shall we characterize the feeling of the beautiful?" "What properties do great works of Art possess?" What is the philosophical role of Psychoanalysis?" "How shall we philosophically characterize the role of language in our understanding of the world?" "What is the meaning of life?"
Connect with the Author on their Websites and Social media profiles
Michael R D James Facebook Page