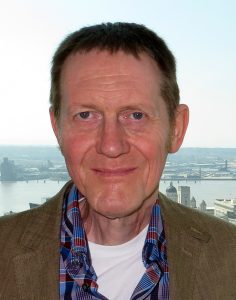 Featured Interview With David Chadwick
Tell us a little about yourself. Where were you raised? Where do you live now?
I am a British journalist who has spent 30 years reporting on major events and interviewing front-line UK politicians. I have been running my own journalism and public relations consultancy since 2001, writing about business and economic issues.
Previously I was a PR manager at KPMG, and before that, a British government press officer. I have held a number of senior editorial positions on daily newspapers across the country and my freelance work has appeared in national titles.
Born and raised in Lancashire, I took a BA in history and politics at Queen Mary, University of London, and a master's in creative writing at Manchester Metropolitan University.
I have co-written a non-fiction book about the Battle of the Atlantic, and jointly edited two short story collections. I have a life-long interest in maritime history and has travelled widely in the USA. I live with my wife, two sons and two Jack Russell terriers in Greater Manchester, England.
At what age did you realize your fascination with books? When did you start writing?
Without creative writing I might well be dead. I began doing it on medical advice, as part of a successful strategy to overcome alcoholism. The introduction to the movie Trainspotting is spot on: fuelling a chemical dependency is serious hard work. When you stop doing it, there's an enormous void in your life and the doctors told me it was vital to find a replacement activity if I wanted to stay sober – and alive.
Almost 25 years later, it's still working – but there have been major complications. Three years after I had my last drink I developed oral cancer in 1992, probably as a result of spending my twenties in a haze of drinking and smoking. Major surgery and radiotherapy cured the cancer – and did nothing to dent my resolve to carry on writing. As if that wasn't enough, twenty years later – in 2012 – I developed another oral cancer, this time caused by the radiotherapy I'd had for the first one. This was a devastating blow after all those years living a healthy lifestyle.
Nonetheless, the cancer was successfully removed and my prognosis is encouraging. Again, creative writing proved a crucial therapy. Not only did writing a novel demand time and focus that would otherwise have been wasted on worrying, but it also gave me a long term goal to aim for.
So in a very real sense, I owe a great deal to writing fiction.
Who are your favorite authors to read? What is your favorite genre to read. Who Inspires you in your writings?
Authors I most enjoy and admire are: George Orwell, Ernest Hemingway, Robert Harris, Thomas Harris, John le Carre, Mary Stewart, Barbara Vine, James Ellroy, Lee Child, Tom Wolfe, Cormac McCarthy, David Mitchell and William Boyd.
Tell us a little about your latest book?
Liberty Bazaar is a historical novel based on real events in Liverpool during the American Civil War. The story revolves around the conflict between Trinity, an escaped slave girl, and Jubal, a battle-fatigued Confederate general
After escaping from a South Carolina cotton plantation, Trinity is recruited by wealthy British liberals to support Abraham Lincoln's Union.
At the same time, Jubal has been relieved of his front-line command after publicly denouncing slavery. To remove him from the controversy, he is sent to Liverpool to promote a Grand Liberty Bazaar in aid of Southern widows and orphans.
Trinity discovers a high-level conspiracy that could win the war for the South, but her attempts to persuade the British authorities to take action lands her in a snake-pit of subterfuge.
Jubal also starts to question who he can trust when he realises he is being manipulated by powerful individuals whose motives threaten to destroy him and his family.
As the stakes get higher, the pair realise they must work together if they are to survive.
Connect with the Author on their Websites and Social media profiles