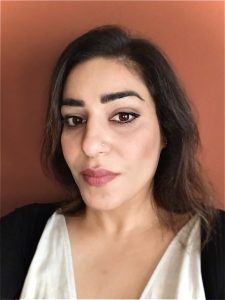 Featured Interview With Boshra Rasti
Tell us a little about yourself. Where were you raised? Where do you live now?
Boshra Rasti was raised in British Columbia, Canada and works as an expatriate teacher in Qatar. She received a Master's degree in Educational Leadership at Royal Roads University, which proved a fateful blow to her belief in anything hierarchical. However, it did spark her desire to flee from the real world and start writing about other ones. When she is not working to earn a living, she enjoys the escape that reading and writing lend her. She also enjoys physical running, even if it is of the sadistic variety in Qatar.
At what age did you realize your fascination with books? When did you start writing?
I was a late reader, meaning I didn't learn to read well until I was in grade 3 or 4. The first book that made me want to devour books was the Chronicles of Narnia series. I absolutely adored the world building and the sense that I could find refuge in a book.
Who are your favorite authors to read? What is your favorite genre to read. Who Inspires you in your writings?
I read a lot of different authors. I love dystopia and sci-fi. I just think the world building in it is so spectacular. I love Octavia Butler and the former Soviet Block writers.
Tell us a little about your latest book?
Surrogate Colony is a post-pandemic, dystopian novel about a world where algorithms control essential aspects of freewill. Harmony is the all-knowing database that determines your family, your partner, how many hours of free time one has, what position in society one is given. It is a radical world, but one that isn't unimaginable far-out. We've had many of our personal liberties and freedoms stifled in the last couple of years, allowing for unreal precedents to be set by governments around the world. Some arguably necessary; others not so much.
Connect with the Author on their Websites and Social media profiles
---
If you enjoyed this writer's interview, check out our Featured Authors page. We have some of the best authors to learn about. They are just waiting for you to discover them. If you enjoyed this writer's interview feel free to share it using the buttons below. Sharing is caring! If you are an author and want to get exposure to new readers submit your book to our book promotion service.