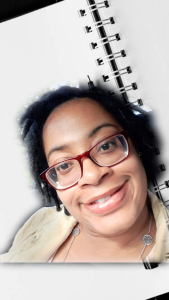 Featured Interview With Alyssa Mitchell
Tell us a little about yourself. Where were you raised? Where do you live now?
I was born and raised in St. Louis, MO. I live in Indiana with my husband and our two children. We have two Labradoodles.
At what age did you realize your fascination with books? When did you start writing?
I learned to read at around age four and I loved books then. I read Dr. Martin Luther King Jr.'s "I Have a Dream" speech and learned my first big word, demonstration, at the age of six. I started writing short stories at the age of seven. I started writing poetry at age nine.
Who are your favorite authors to read? What is your favorite genre to read. Who Inspires you in your writings?
Maya Angelou inspired me to write poetry and I love her stories and poems. I enjoy reading Stephen King as an adult. I think Toni Morrison has been a sort of teacher to me in my reading and writing as well. I love to read autobiographies/biographies and African American Literature. I can never pick just one genre.
Tell us a little about your latest book?
I Like Blue
Well, this is my first published work. It took me a week to write the book and another week to come up with the graphics. I used graphics from one of my subscriptions, so I did not illustrate the graphics myself. I had to start somewhere, you know. Below is a blurb from Blue Bird about the book.
Learn colors!
"Sure this is a colorful world, but if I had my way it would be? You guessed it, blue!
I know what I like, and it is blue! There are so many great blue things out there, but I wish there were more. I love blue. How about you?"
Connect with the Author on their Websites and Social media profiles