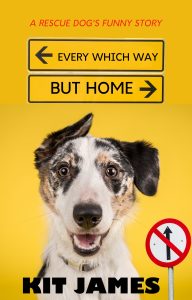 About Every Which Way But Home by Kit James:
Jolted from his cozy life when he accompanies his Boss, Ian, on an ill-fated trip, Barney is thrown into the unfamiliar world of Barranyup Dog Pound. Getting lost was his own fault – he's got nobody to blame but himself, as he admits. There's nothing worse for a dog than feeling sheepish!
¬ ¬Now that he's been incarcerated, the smart-arse young mutt must use his wits and his 'smarts' to survive in this hostile environment. Stunned and disappointed that Ian doesn't show to take him home, Barney's got to deal with his new situation. Can he learn to use the system under the guidance of Charlie, an ancient scarred Blue Heeler who takes him under his paw, or will it be "'bye, bye Cruel World" with Doc Soper's needle?
And then … will there be life and love in a new home after the dog pound?
Find out how it all happens in Every Which Way but Home, the humorous, yet touching, prequel to the popular Mutt to Megastar Series.
Buy the book, and follow the author on social media:
Learn more about the writer. Visit the Author's Website.
Author Bio:
Kit James was born in the UK. He came to live in Australia with his parents in the 1970's. He was adopted by a stray dog, and that was that. Dogs have been a big part of his family ever since. He loves them for their honesty, loyalty, and yes, sense of humour.
Kit lives in one of Australia's wine-growing regions with his wife, 'Kat', and his dog Kaboodle.
Favourites? Chet, Spencer Quinn's amazing dog-with-attitude in the Chet and Bernie series.
If you'd like to connect with Kit, he'd be delighted to hear from you. https://www.kitjamesauthor.com
What has been the inspiration for the books in the Elliott series?
An element of every dog who has shared his life with me has been an inspiration for the characters in my Mutt to Megastar series. And I say "who" because I think of dogs as being an animal person, just as we humans are.
What was the greatest challenge in writing the Mutt to Megastar series?
What I cared about most was making Elliott's character believable. It's important for readers to care about him, and to relate to his fear of being sent back to the Dog Pound believable. My wife and I have adopted quite a few rescue dogs, and they never forget the hard times they went through. It's there just under the surface, no matter how much you love them and help them to feel secure. At the same time I wanted this to be a humorous story, and believable as told from the dog's perspective. We humans are a funny, and sometimes, a weird lot, especially when we're scheming, like Jamie is.
An Amazon reviewer beautifully summed up Elliott's story as "a dog's version of life, death and stardom."
Describe the other dog characters in the Mutt to Megastar series.
* Elliott: Our Aussie Rescue Dog hero. An ordinary mutt formerly known as Barney
* Charlie: An old Blue Heeler cattle dog and Elliott's mentor in the Dog Pound
* Belmondo: A nervous, wussy Doberman
* Hedy: A beautiful, foul-mouthed Afghan
* Alison: A sexy Airedale. Elliott's doggie love
* Jason: Boxer-bitzer. Elliott's dozy fan
* Mitzi: A snooty, pedigree Standard Poodle
* Spike: A Tibetan Mastiff. Next door's dog
* Pete The Peke: a Pekinese with dementia
* Brian Boru: A gigantic Irish Wolfhound
* Savage Gordon: A mini psycho, Jack Russell Terrier
* Toto: A brindle Fox Terrier with attitude.
* Max: A brown Kelpie who lives next door to Alison
Elliott has to do some crazy stunts in each book. How did you decide he could do them?
Well, in doing some research I found out that a great many of the best dogs in movies that we all love and remember have been rescue dogs. For some reason their journey has imbued in them a particular strength of character, a will to please and a keenness to excel. They have been the most trainable for the stunts they are asked to perform.
Of all your characters in Reality Barks: Mutt to Mega-Star, which one do you have a real attachment to?
I think it would have to be Charlie, who was in the pen next to Elliott's at the Dog Pound. Although he's unseen in a lot of the story, Charlie has a continuous influence on Elliott and his doggie conscience.
If Reality Barks: Mutt to Mega-Star was a movie, who would voice Elliott (the lead dog character)
I'd love to say Chris Hemsworth (wouldn't everybody), but probably Australian actor Richard Roxburgh because he's got a wicked sense of humour, just like Elliott.
What is your favourite target across all your books?
Corporate greed. Perfect for satire.
What authors have influenced you?
Because everything I write has humour, satire and a bit of the dark side to it, that's where I normally go. Thinking of dogs, I always chuckle at Chet, Spencer Quinn's really cool dog character. I love the Chet & Bernie series.
Do you have any unusual writing habits?
No. Any place any time is fine for me. Gimme a snoring dog and a blank wall, and I'm happy.