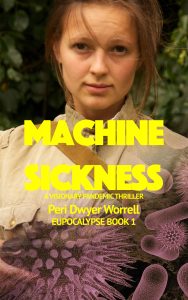 About Eupocalypse Trilogy:
This 2016 book was censored in 2020: it has a microorganism that escaped from a Chinese laboratory. Then things get weird. What if all plastic and oil dissolved? And the scientist who knows why is kidnapped? What if a new form of life arose from the ocean after the cataclysmic fall? What if it taught us quantum communication?
Book 1 starts with the development of a new bacterium that can clean up oil spills. But the cultures come from a shady overseas source, and the contagion spreads from machine to machine, dissolving everything plastic or petroleum, and civilization dissolves in chaos. The scientist who could solve the problem is sequestered by intelligence agents.
Book 2 zooms out to see how the pandemic affects the world. We meet a natural mathematical genius, languishing in an abusive marriage in rural Africa, who devises a method for communicating with the new aquatic creatures that evolved rapidly from the upheaval. We follow a Chinese technocrat through the eupocalypse to Africa, where he meets and loses the love of his life.
Book 3 gives us a glimpse of what a new, sustainable world with quantum communication and petroleum-free technology will look like. All the characters' stories overlap and entwine, ending in a very unusual happy ever after.
Buy the book, and follow the author on social media:
Learn more about the writer. Visit the Author's Website.
Author Bio:
Peri Dwyer Worrell grew up white on a Puerto Rican street in Manhattan, gaining love for Latin culture as well as a keen appreciation of the value of diversity, tolerance, and taking no crap from anyone. Peri practiced as a physician for 30 years. After becoming disabled by inflammatory arthritis, Peri expatriated to Latin America and returned to writing.