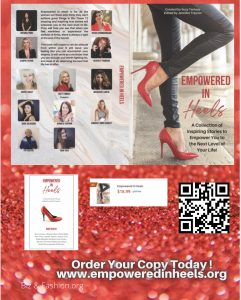 About Empowered In Heels:
A Collection of Inspiring Stories to Empower You to the Next Level of Your Life!
Twelve women, one common message: No matter what you face in life, you are worthy of love, happiness, and success! Each of our authors has shared personal stories of determination, self-love, and motivation. Their stories demonstrate courage and perseverance in a way that will leave you inspired to do the same.
With the turn of each page, not only will you want to cheer each woman on through the journey she shares, but you will also feel uplifted and empowered!
Buy the book, and follow the author on social media:
Learn more about the writer. Visit the Author's Website.
Author Bio:
Suzy Tamasy is an entrepreneur, award-winning mentor in finance, and a leader in advocating for entrepreneurship as a way of creating positive transformation in the world. Suzy is the founder of SuzyQJewels, Frugal Divas, Empowered in Heels, Biz & Fashion Magazine, and Women on Biz, an initiative to radically transform how we support, celebrate and finance female entrepreneurs. She is also a blogger, event producer, and serial entrepreneur.
An entrepreneur and woman of style from an early age, Suzy understood from very early on that if she wanted something, she had to work for it, and it's that knowing that has helped her break the barriers and tenaciously pursue a love of fashion. Suzy started as a jewellery designer using recycled items and has evolved to her mini-empire with a virtual consignment shop and new clothing line under SuzyQJewels and Frugal Divas. Her clothing line donates a portion of its sales to women shelters across Ontario. Suzy also has two magazines – Empowered in Heels and Biz & Fashion Magazine.
To give back to the community, Suzy hosts a yearly Swap, Sell and Donate event and fashion show with her signature trademark walk showing the cycle of abuse and stopping the violence.
Suzy strives to build relationships with her clients, encouraging them to never give up on their dreams because she believes that when we are open to the light of kindness, we can accomplish anything!
Suzy is currently based in Oshawa, Ontario with two lovely sons. Check out Suzy Q Jewels to learn more about the beauty, brains, and business-savvy of Suzy Tamasy.
We are 12 authors in total but l was the vision and creator.