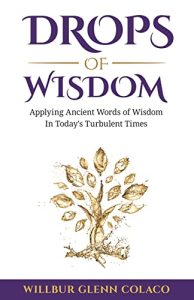 About Drops of Wisdom:
Drops of Wisdom: Applying Ancient Words of Wisdom in Today's Turbulent Times
Would you want ancient Vedic wisdom and philosophy to be easily applicable in your modern daily life?
Would you want to know and learn more about faith, perception, mastermind mentors', leadership and how to take effective decisions in Life?
Have you read Om Swami's books or other philosophies and are looking for something more?
Drops of Wisdom is a simple, practical, and effective guidebook where author Willbur Glenn Colaco has created a brilliant amalgamation between ancient Vedic spirituality and positive mindset psychology. A new take on eastern spiritual mysticism.
Buy the book, and follow the author on social media:
Author Bio:
Willbur is a former Environmental Scientist/Health Officer, currently working as a Realtor, Author and Keynote Speaker. Willbur is a devoted reader with an unquenchable thirst for personal development, financial self-education, and philosophy. Apart from nourishing his passion for the environmental, business, and fitness, Willbur earnestly advocated the campaign of 'Feeding the Homeless' in Adelaide, South Australia. Willbur is inspired by Mother Teresa's famous saying: "Helping hands are always better than praying lips."