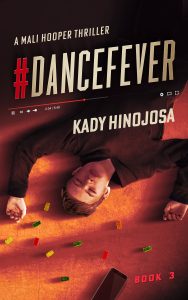 About #DanceFever: A Mali Hooper Thriller, Book 3:
After a tragedy followed by a forced leave of absence, Agents Mali Hooper and Jacob Black go rogue to find a killer and justice.
FBI Tactical Intelligence Analyst Mali Hooper is enjoying life working on a task force in New York City with her fiancé, Jacob Black, and a team she considers family. When a tragedy leads them to a new case, they are immediately ordered to disengage. It's a DEA matter. Unable to move on, Mali and Jake are forced to take a leave of absence.
But people, the most disturbing being children, are dying of a devastating epidemic, so Mali and Jake decide to take action on their own.
They find a chilling clue that sends them on a trajectory where there's no way back: Revancha
Payback.
With the help of a few friends, including Jake's Army buddies, they put their careers and lives on the line with an unauthorized operation. Can Mali and Jake stay a step ahead of the DEA and solve the case, without getting killed first?
If you like thrillers full of heart-stopping action, intrigue and mystery, that will have you cheering for the inimitable Mali Hooper, then this is the book for you.
Buy at the discounted price of $0.99 (reg $4.95), now through 9/12/22!
Buy the book, and follow the author on social media:
Learn more about the writer. Visit the Author's Website.
Author Bio:
Author, blogger, wife, step-mom, Grammy of six, born and raised in California, live in Texas, cancer survivor (see my blog for more info), playing with my grandkids makes my day, family is everything, love suspense/thrillers, mysteries, romance, no horror, all Janet Evanovich, Nora Roberts/J.D. Robb books, love cats, like dogs, exercise addict (walking, running, biking, golfing, hiking, swimming, boot camp, weights), very organized, balance finances to the penny (definitely anal about that), hard worker, love the military and their families-they rock!, Navy veteran married to Army 26-yr aviator (Apaches, Cobras) veteran, men in uniform are hot (especially my hubby), Texas Two-Stepper in Luckenbach, honest and kind, good sense of humor, travel is in my blood, volunteer in my community, math aficionado, enjoy helping others, enjoy making movies from pictures and videos for friends and family, a bit shy and semi-introverted, Heartland, Yellowstone, Schitts Creek, Hallmark movies, crier for almost any reason watching movies/shows and singing National Anthem, admire Priscilla Shirer, not a coffee or alcohol drinker, cruising is a blast, scuba diver, not a fan of thunderstorms but love watching rain fall, a bit of a control freak, oldies but goodies and country music.