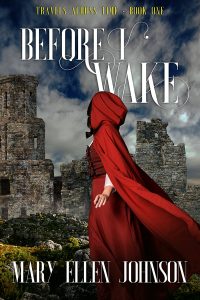 About Before I Wake (Travels Across Time, Book 1) by Mary Ellen Johnson:
Historical novelist Magdalena Moore is haunted by the black-haired, black-eyed knight she first encountered during a past life regression. Across a lifetime, Magdalena searches for the truth about Ranulf Navarre and his Lady Jane.
Is Magdalena the reincarnation of Lady Jane?
Who is Ranulf Navarre, the knight who has tormented her across centuries–her once beloved or a figment of Magdalena's writer imagination?
During a visit to Tintagel Castle, Magdalena is miraculously transported to thirteenth-century England, where she is indeed Lady Jane, and Lord Navarre her husband. But Ranulf is not the man of her imagination.
Why is Ranulf so cold and Janey so erratic? What secrets are they hiding? When England plunges into civil war, pitting the rebel baron Simon de Montfort against Henry III, Ranulf backs the wrong side, the side which will be annihilated at the Battle of Evesham. Knowing her husband is destined to die in battle, Janey/Magdalena tries desperately to cheat fate, save Ranulf, and finally find happiness. But when Magdelena, whose past and memories exist alongside Lady Jane's, discovers her counterpart is the ultimate unreliable narrator, Magdalena uncovers a terrible truth which may prove too heinous to be forgiven.
Buy the book, and follow the author on social media:
Learn more about the writer. Visit the Author's Website.
Author Bio:
BEFORE I WAKE is the first novel in my four-book time travel series, TRAVELS ACROSS TIME. BEFORE I WAKE deals with a pair of star-crossed lovers reuniting and fighting in thirteenth century Cornwall during the time of Simon de Montfort's rebellion against England's king. Upon completion of my second time travel, ETERNAL BELOVED, which takes place in fourteenth-century Ireland, I will say good-bye to my beloved Middle Ages and turn my TRAVELS ACROSS TIME attention first to the Colorado Labor Wars, and finally, to a haunted roadhouse on Colorado's eastern plains that may bear a close resemblance to a tavern owned by my grandfather.
I am the author of the six-book KNIGHTS OF ENGLAND historical romance series, plus THE LANDLORD'S BLACK-EYED DAUGHTER, based on the Alfred Noyes poem, "The Highwayman," which was published under the pseudonym Mary Ellen Dennis.
When not writing, I enjoy my children and grandchildren and Karma the Wonder Dog, my German Shepherd who helped me survive COVID and numerous other adventures.