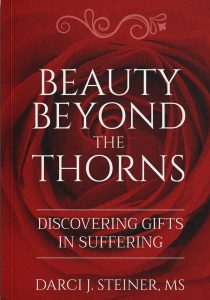 About Beauty Beyond the Thorns: Discovering Gifts in Suffering by Darci J. Steiner:
If you are experiencing a season of suffering, you will find hope, humor, and healing throughout the pages of Beauty Beyond the Thorns: Discovering Gifts in Suffering. Modern-day stories of suffering are paralleled with similar biblical accounts that will both enrich your understanding of the Bible and provide hope for your personal journey.
We all need healing, whether experiencing physical or emotional pain from the thorns of divorce, job loss, grief, addiction, disability, or financial troubles. When we follow Jesus, God offers us gifts such as joy, hope, compassion, and mercy to help us not only endure our suffering but flourish in it.
In Beauty Beyond the Thorns: Discovering Gifts in Suffering, and its companion study guide, Darci inspires and equips both men and women to endure trials through meaningful insights she has gained during her physical disabilities and emotional suffering. Look inside for inspiration and to learn how to discover empowering insights to assist you along your healing journey.
Buy the book, and follow the author on social media:
Learn more about the writer. Visit the Author's Website.
Author Bio:
Darci J. Steiner has served in the ministry as a teen and women's ministry leader, as well as assisted with church plants in Denver and Los Angeles.
In 2001, Darci nearly lost her life after a debilitating fall down the stairs in her home. During her recovery, she earned her Master of Science degree in Holistic Nutrition and implemented natural remedies into her lifestyle that helped save her life.
When Darci became disabled a second time after a foot injury in 2018, she wrote her debut book, Beauty Beyond the Thorns: Discovering Gifts in Suffering and its companion study guide. She is an inspirational speaker and nutritionist. Her book has been an Amazon bestseller in eight different categories, including Christian Counseling, New Testament Bible Study, and Chronic Pain.
Darci and her husband have two adult daughters and a baby granddaughter. They live in the Denver area. When Darci isn't writing, she's playing the piano, playing with her granddaughter, or playing in the dirt planting her garden.