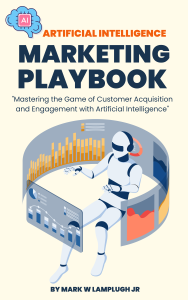 About AI Marketing Playbook:
Looking to revolutionize your marketing strategies? Look no further than "AI Marketing Playbook" – the definitive guide to leveraging the power of artificial intelligence to optimize your marketing campaigns.
In this comprehensive guide, you'll learn how AI can help you personalize your messaging, target your ideal audience, and predict future trends with unprecedented accuracy. You'll discover proven tactics for leveraging data-driven insights to drive conversions and increase ROI, and explore cutting-edge technologies like machine learning, natural language processing, and more.
With practical tips and real-world examples, "AI Marketing Playbook" is an essential resource for anyone looking to stay ahead of the curve in the fast-paced world of digital marketing. Whether you're a seasoned pro or just getting started, this book will give you the tools and insights you need to take your marketing game to the next level. So why wait? Grab your copy today and start seeing results!
Buy the book, and follow the author on social media:
Learn more about the writer. Visit the Author's Website.
Author Bio:
Mark W Lamplugh Jr is a highly respected marketing executive, author and former firefighter with over 15 years of experience in the non-profit, behavioral, mental and oncology space. As the Chief Marketing Officer of Atlas Healthcare Group, Mark is responsible for developing and implementing successful marketing strategies that have helped the company to achieve significant growth and success.
Mark is also an accomplished author and his books have been recognized as some of the top social media marketing books available today. His first book, Marketing Playbook for Social Media, was named in the Top 100 Social Media Marketing Books by Book Authority, and his latest release, AI Marketing Playbook, promises to be just as popular.
As a contributor to Entrepreneur Magazine, Better Marketing, Startup Magazine and other publications, Mark shares his expertise and insights on a range of marketing and business topics, helping other entrepreneurs and business leaders to succeed in their own ventures.
Mark is also a former firefighter and captain, and he brings the same dedication and commitment to his marketing work that he did to his firefighting career. With a social media reach of over 1,000,000, Mark is a highly influential figure in the world of marketing, and his expertise and knowledge are highly sought after by businesses of all sizes.