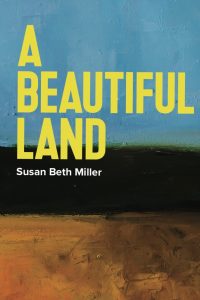 About A Beautiful Land by Susan Beth Miller:
A Beautiful Land is a story of menace, the maternal imagination, and the forest primeval.
Raissa, middle daughter of three, watches her family flee their violence-torn homeland. But she stays behind, bound to her birthplace by memories of a sweet young man.
Driven by danger and grief, Raissa struggles toward a mysterious forest and imagines solace through the unexpected allure of a child.
Raissa joins many who have fled their beautiful homeland. Each speaks in turn as they parse their tangled stories and consider whether they dare return to what once was home.
Buy the book, and follow the author on social media:
Learn more about the writer. Visit the Author's Website.
Buy the Book On Amazon.
Visit the Facebook Fan Page.
Visit the Twitter page.

Author Bio:
I have been writing since I was very young (I'm not young any more!) but I needed another career so I became a clinical psychologist, an occupation that has taught me a great deal about people. Writing fiction and working as a psychologist team up well. Both focus the mind on character. I have won a number of awards for fiction, including two Jules and Avery Hopwood Awards at the University of Michigan and a Michigan Council for the Arts individual artists grant for novel writing. A Beautiful Land was given a Kirkus Starred Review and a Best Fiction listing. It is my second published novel. though I have a number more in the drawer. My earlier novel, Indigo Rose, was published by Bantam Books. A Beautiful Land has a hybrid publisher, Boyle&Dalton, and that has been a great experience. I have published five psychology books. The most recent is Emotions of Menace and Enchantment: disgust, horror, awe, and fascination. I have also written about shame and disgust and about teens and older children who have a difficult or disturbed parent. I am fascinated by nature and love both the woods and the garden. I also have a deep affection for animals, especially dogs. I lost two beloved dogs last year but have a new mixed breed rescue dog, Sylvie, who is a lovable handful. Her DNA says she is pitbull, golden retriever, boxer, Boston terrier, boerboel (whatever that is!) and "supermutt." I like to paint, primarily acrylics and mixed media. I enjoy playing the flute and am excited that I have a new flute (the old one was an official antique!) and am playing flute and cello duets with a friend. The plight of our planet breaks my heart and lately the plight of our democracy as well. Please take a look at my web site to read my blog and learn more about my writing as well as my work as a psychologist. The blog is brand new. The first entry is on anxiety, especially the anxiety that can come with self-exposure through writing or other acts of sharing oneself.