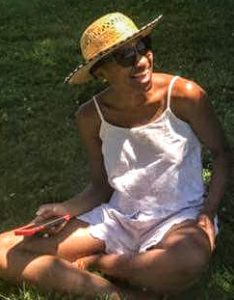 Featured Interview With Val Day-Sanchez
Tell us a little about yourself. Where were you raised? Where do you live now?
I was born in Santiago, Chile, form there we moved to California and finally to New Mexico. I currently am in New Mexico. I love the southwest state. There is something about the desert Southwest that is very much in tune with the Wild Wild West. Plus the food is incredible.
I have two dogs right now, one that doesn't quite believe he is a dog, so that keeps things…interesting. The other is a sheep herding dog so she is constantly trying to round us all up.
At what age did you realize your fascination with books? When did you start writing?
I always loved reading. My earliest memories are going to the library and checking out piles of books. My family would take these long road trips cross country and I would always take notebooks. I would write poetry or lyrics I think I was about eight or nine when I started writing books. I read a lot of R.L. Stein's Fear Street (probably all of them) and watched Wes Craven's slasher movies. So my earliest works were slasher comedies. My teachers worried they were too gory but my parents were like, well as long as you're just writing it and not literally bringing it to life, I think it's okay. Even now I still love scaring my readers.
Who are your favorite authors to read? What is your favorite genre to read. Who Inspires you in your writings?
My favorite author to read currently has to be Erin Morgenstern, please please please come out with something new. I am literally dying without your work. Okay that's completely hyperbolic but seriously please write something else. I also really love Aimee Bender. I don't know anyone else that is writing like she is. Everything she does is so creative and original and a bit weird. It makes me think and I love her for that.
I get inspired to write really from all sorts of things. Lately I've noticed, it's conversations with friends. Good friends make you face your own demons. They could be talking about their own journey and suddenly you're reminded of something you experienced and start coming to terms with it. For me, that process of understanding your past, become my books.
Tell us a little about your latest book?
Threshold was a labor of love. It took me nearly two years to write because I was in the middle of my trilogy when I got the idea for it. Then it was Sci-Fi which I was always too afraid to venture into. Threshold made me put on my big girl panties and get to work.
Threshold first came to me as just a title and then there were two of the main characters, Lucas and Cameron. I think what drew me to them was their friendship and how different they are from one another. How it came to be a Sci-Fi alien invasion novel, I have no idea. My characters really have a mind of their own.
Connect with the Author on their Websites and Social media profiles