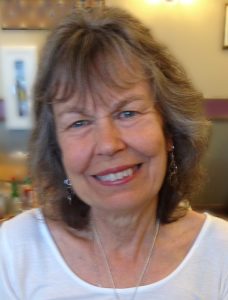 Featured Interview With S. S. Bazinet
Tell us a little about yourself. Where were you raised? Where do you live now?
I grew up in Kansas City, a beautiful part of the Midwest. However, after moving around the country, I finally decided to make Albuquerque, New Mexico my home. The desert is a wide, open place, perfect for contemplation on my early morning walks. When I first moved here, I had a wee poodle named Winnie. After she crossed over, I was so busy with writing that I decided not to get another pet, but I still miss her.
At what age did you realize your fascination with books? When did you start writing?
I've loved books ever since I can remember. My mom used to bring home Little Golden Books whenever she went shopping. Later, when I was old enough to take myself to the library, I devoured adventure stories. I started writing when my children were grown. However, writer's block had hold for a long time. Finally, when I gave in to simply having fun with writing, the stories flooded out.
Who are your favorite authors to read? What is your favorite genre to read. Who Inspires you in your writings?
When it comes to reading, I enjoy many diverse genres and authors. Books by Daniel Pinkwater, who writes children's stories, and sci-fi thrillers by Michael Crichton are on my book shelves. I also enjoy mysteries and soul-stirring books like Kahlil Gibran's The Prophet. I think that all the wonderful books that I've read have left me with a desire to keep the stories going. Maybe that's one reason that I love to write.
Tell us a little about your latest book?
Brother's Blood, the fourth book in my series, The Vampire Reclamation Project, is going to be released by mid August, 2016. What I love about writing this series is that it revolves around a quest for transformation. Arel, the original vampire, is dramatically changed when he drinks a bit of angelic blood. Afterwards, Arel doesn't know how to handle the power he feels growing within himself. His life spirals out of control, especially when he seeks revenge on the person who made him a vampire.
With each book in the series, the story expands into a tapestry of interwoven lives and lifetimes. The characters come together to resolve issues surrounding love, hate, trust and betrayal. With the angelic help of Michael, Gabriel and Raphael, the group is also reunited with a purpose that goes beyond the norm and enters the realm of mystery. Their task isn't always easy, but all involved learn that they have extraordinary abilities and power. They find ways to reach for the stars while always having to ground themselves in brotherhood.
Connect with the Author on their Websites and Social media profiles