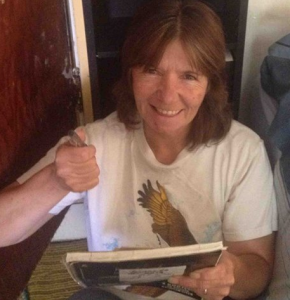 Featured Interview With P.S. Winn
Tell us a little about yourself. Where were you raised? Where do you live now?
Raised in Montana, I lived In Utah for 30 years before returning to my native home. Luckily I have friends and family in both places and along the way. For me it is so awesome to have friends and family around who support the craziness I call being an author. They all have put up with a lot because I am working on my 40th book to finish 4 years of being an author.
I love family, animals, gardening and writing. You can find me outside, with my notebook and pen, but my health limits what I can do.
At what age did you realize your fascination with books? When did you start writing?
I think I was born with a book in my hand, I am an avid reader and reviewer as well as an author. Although I always wrote short stories and poems, I didn't try publishing an actual novel until October of 2012, now working on #40, I think that means I couldn't stop. The ideas won't stop swirling until I pull out a pen and write them down because I write the books longhand.
Who are your favorite authors to read? What is your favorite genre to read. Who Inspires you in your writings?
I love to read just about anything and write almost anything also. I don't read or write erotica. I just love a good story, especially suspense with a touch of supernatural, which my writing is also heavy on.
Tell us a little about your latest book?
Book 39 is going to be out sometime in June, "Realities" is a life story of a young woman whose boyfriend supposedly committed suicide. The woman, Mandy is going to find out a conspiracy behind the death and also that she is pregnant with the young man's son. What she discovers will change her life, her son's life and maybe humanity.
I am also starting book 40, "Presence" is the story of a woman who can connect with the other side.
Usually she meets good spirits, but not always!
Connect with the Author on their Websites and Social media profiles