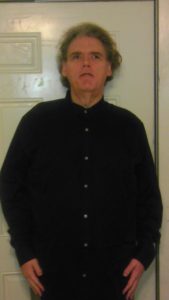 Featured Interview With Maxwel Ivey Jr.
Tell us a little about yourself. Where were you raised? Where do you live now?
I'm a totally blind 50 year old business owner, blogger, podcaster, coach, and twice self published author from Conroe Texas near Houston. I grew up in a family of carnival owners and was lucky enough to work in the business until my dad's early death from lung cancer lead to the closure of our small family show. A health emergency forced me to reevaluate my life. I was treated for sleep apnea and started getting my energy and passion back. Later I had gastric surgery and lost over 250 pounds. While promoting my amusement equipment brokering company I was very active on face book and linked in. People told me I was an inspiration and persuaded me to start sharing my more personal life experiences through my new website the blind blogger. I wrote a motivational book called Leading You Out of the Darkness Into the Light a BLind Man's Inspirational Guide to Success. It shares my journey, the lessons learned, and some exercises for people to complete and report on to me via email. I just finished my second book Its Not the Cookie Its the Bag where I am sharing the lessons learned and techniques adopted to lose the weight and keep it off. I love to sing and often sing during radio and TV interviews. I work with my mindfulness partner a greymation named penny. She is always there to remind me when its time to put down the laptop and start scratching those places she can't reach. I love meetingg new people and making new friends and am always ready to answer your questions. As a successful business owner and author who happens to be blind I realize I'm going to get asked a lot of questions people don't feel comfortable asking anyone else. So, I'll tell you I would rather answer an awkward question than to have you make up your own answer. I have to correct a lot less myths that way. So, if you have a question; just ask!
At what age did you realize your fascination with books? When did you start writing?
Five or six when I read Charlotte's Web all by myself. It was great being able to go places in the pages of a book. But the attention from my family made that even sweeter. I started writing in middle school. Back then schools still insisted on teaching kids how to write. I had a natural talent for it and was encouraged. Like Holden Cawfield in Catcher in the Rye I've always been good at it. Its only been in the last seven years since starting my first blog that I was reminded just how much I love writing. People seem to think I'm a good story teller. I try to bring personal experiences into everything I write. I'm happy I can inspire, motivate, and entertain through my words.
Who are your favorite authors to read? What is your favorite genre to read. Who Inspires you in your writings?
I read everything but westerns. I split my reading about 50 50 between fiction and nonfiction. I use the nonfiction like Joel Osteen, Joyece Meyers, Dr. Laura, Elizabeth Gilbert, Dr. Wayne Dyer and others to motivate me. I listen to them primarily while exercising. They are great when riding my bike that doesn't go anywhere or walking on the treadmill. And I read authors like John Sandford, Faye Kellerman, Robert B Parker, Marsha Muller, Janet Ivanoviche, Joanne Fluke, Sandra Brown, J D Robb, Nora Roberts, Steven King, Tom Clansey, Clive Cussler and others when I need distraction. Sometimes a great story can move you forward more strongly than a self help book. And I say this as a personal development author. 🙂 Those stand up and cheer endings can make you go out and try harder. Those naturally funny scenes can make you feel your life isn't as difficult as you think. And sometimes I have my best ideas when I turn my brain off and stop thinking about it for a while. I like to say sometimes your body wants a snickers bar and sometimes your mind and spirit want Stephanie Laurenz.
Tell us a little about your latest book?
Its called Its Not the Cookie Its the Bag. I had gastric surgery in 2012 and lost over 250 pounds. What most people don't know is only 50 percent of patients lose 80 to 90 percent of the weight they need to lose. The ones who succeed do so because they learn the new lessons and change their lives. I started learning and changing one small step at a time starting six months before I had the surgery. I think people need to realize that with any plan to lose weight and keep it off you have to make a lot of choices and changes. You have to find techniques that work for you and that will continue working for the rest of your life. So, I have chapters on subjects like making peace with for mirror, not being afraid of your scale, why food journals don't usually work, exercise myths, putting good health on your schedule,importance of faith, value of your community, and improving your body and your life one small step at a time. I have high hopes for this book both for my future and for the health of so many people out there.
Connect with the Author on their Websites and Social media profiles