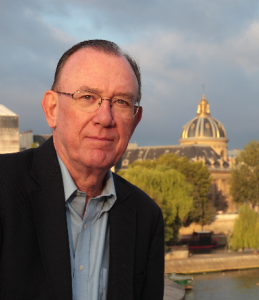 Featured Interview With John Pearce
Tell us a little about yourself. Where were you raised? Where do you live now?
I live most of the year in Sarasota, a beautiful small city with a lot of theaters and museums, on the West Coast of Florida. For a couple of months each year I live in Paris, which is where I base most of the action in my books.
During my varied careers I've lived all over the place — as a journalist in Washington, DC, and Germany; as a corporate manager in Washington and St. Louis, and as CEO of my own business in Sarasota. I sold that ten years ago.
At what age did you realize your fascination with books? When did you start writing?
My interest in reading goes back a VERY long time, to the Hardy Boys and science fiction when I was hardly old enough to make out the words. I took my first shot at a novel forty years ago, when we were staying in a small hotel in Assisi, but I couldn't get it off the ground.
Ultimately my efforts resulted in Treasure of Saint-Lazare, my first novel. It won the Readers Favorite award for top historical mystery a year after I published it, and it sold quite a few copies — for a while it was in the top 50 of all Kindle books.
Last Stop: Paris is a true sequel, and should be read after Treasure of Saint-Lazare.
Who are your favorite authors to read? What is your favorite genre to read. Who Inspires you in your writings?
I read across genres, but my reading taste leans to literary fiction. I'm a fan of Ann Patchett and Don DeLillo, and of course the godfather of my own genre is John LeCarré.
Tell us a little about your latest book?
Last Stop: Paris is the continuation of the story I told in Treasure of Saint-Lazare, which is about a famous painting the Nazis stole from a museum in Poland at the beginning of the war. The governor-general of Poland, a high Nazi who was hanged by the Nuremberg Tribunal, supposedly shipped it to his home near Munich just as the Russians were closing in on him in Krakow, at the beginning of 1945. All that is history. It actually happened, and the painting hasn't been seen in public since, although there are rumors that it's stored in a bank vault somewhere.
My "what if" story is about a modern gang of cutthroat criminals who get the idea an American who was an Army officer during the War either has the painting or knows where it is. The burden falls on his son Eddie, who is the major protagonist of both books — the father is murdered, and the protagonist's wife and young some are murdered as well. There are few clues, and for ten years the case grows cold.
Then one day a young woman appears at Eddie's home in Paris with a letter that provides a critical clue. The tale takes off from there.
Connect with the Author on their Websites and Social media profiles