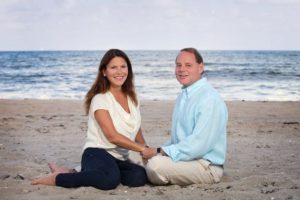 Featured Interview With John Lipscomb and Adrianne Lugo
Tell us a little about yourself. Where were you raised? Where do you live now?
My name is John Lipscomb and I was raised in St. Louis, Missouri. My fiancée and co-author's name is Adrianne Lugo and she was raised in Wantagh, Long Island, New York.
We currently reside in Boynton Beach, Florida and we moved here almost three years ago from St. Louis, Missouri.
We have one very spoiled Yorkshire Terrier named, Holly.
At what age did you realize your fascination with books? When did you start writing?
Adrianne and I are both pretty big readers and have been most of our lives.
For the sake of honestly neither Adrianne or I are writers. I have written a few short stories over the years that have been published and when we decided to write our book I wrote out my entire story and some parts of the book. We did a nation wide search and found a ghostwriter that we collaborated with. We wrote some of the book, there were interviews done, there was a screenplay written about Adrianne's story previous to the idea of the book, we had cd's and talks on tape. We basically threw it all into a kitchen sink and pulled it out piece by piece and put it together.
Due to the complexity of the story and because we decided to make it a tandem narrative literary nonfiction we needed help to make it flow smoothly which I believe we accomplished.
Who are your favorite authors to read? What is your favorite genre to read. Who Inspires you in your writings?
My favorite genre is memoir and historical fiction. My favorite two book are, Lit, by Mary Karr and Unbroken, by Laura Hillenbrand. Adrianne's two favorite books are, The Glass Castle, by Jeannette Walls and Beautiful Boy, by David Sheff.
Tell us a little about your latest book?
Our latest and only book to date is named, The Painting and The Piano, and was launched on February 4th, 2016.
The Painting and The Piano is an improbable story of survival and love.
The childhoods of Johnny and Adrianne couldn't have been more different. Not only were they born more than one-thousand miles apart, but the cultural and financial contrasts between their respective childhoods are equally as stark.
Old-money wealth and privilege defined Johnny's childhood in Ladue, Missouri, which is to St. Louis what Scarsdale is to New York City or Beverly Hills to Los Angeles. From the moment of his birth, Johnny's world was private clubs, private schools, private jets, high-society etiquette, and a loving nanny named Lizzy.
Middleclass Jewish values, bickering but loving parents, and the distinct character of Long Island defined Adrianne's early life. It was public school, public transportation, Jones Beach, and Lawn Guyland rather than Long Island or tawk instead of talk.
However, Johnny and Adrianne's childhoods share a tragic parallel that damaged each to the core of their psyche, their emotional well-being, and brought both to the brink of death.
Where their story diverges from so many others is that rather than fall into the darkness, Johnny and Adrianne reached for the light. Thus began their respective journeys of healing, which led from the slow death of addiction to a serendipitous meeting, falling in love and building a shared life dedicated to the service of others.
Told as a tandem narrative, Adrianne and Johnny pass their respective stories of childhood trauma and abuse, addiction, healing, and final triumph of love back and forth in alternating chapters. Their stories are unique, but share parallels that create a taut and emotionally compelling narrative.
Connect with the Author on their Websites and Social media profiles
John Lipscomb and Adrianne Lugo's Website
John Lipscomb and Adrianne Lugo Facebook Page