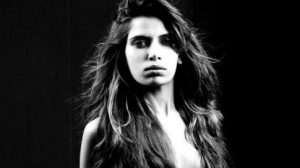 Featured Interview With Delilah Alvares
Tell us a little about yourself. Where were you raised? Where do you live now?
I was born in Al-Sabah, Kuwait. But, I grew up straddling between Kuwait and England.
I've now moved to New York, but still have my home in England.
It's my secret haven, to which I escape to from time to time, whenever I feel the need for inspiration or sometimes, just plain serenity.
I started modeling a few years ago after winning a calendar model hunt and making it as a finalist at a national beauty pageant. Since then, I've been fortunate enough to have worked with photographers all around the world and to have walked the runway for big names across the globe as well.
But, about 2 years ago, I went through an exceptionally dark phase and it ended me in the cruelest way possible. I call it an intimate darkness that I never saw coming. Worse still, I never knew 'when' or 'if' I'd ever find a way out of it.
Truth be told, I did face quite a trying time while growing up. I grew up knowing that darkness is an old friend to me. But this time, it actually got to me.
That was when I moved to New York and this city showed me a world that was so much bigger and brighter than I ever imagined, fading the past to the background. New York made me find me, while fixing me up and luring me out of the dark.
I've now started to see life from a new perspective, in light of a new beginning.
Although getting published in New York was no easy task, I kept stubbornly powering through until I got my manuscript published.
I even made my comeback into the modeling world with a photo shoot in Florida that was in support of 'Save the Wild' wrapped in nothing but a Burmese Python that was about 13 feet long and weighed a ton! But, it was an absolute pleasure to have worked with that friendly python and the entire crew.
As for pets, yes, I do have two absolutely adorable dogs.
At what age did you realize your fascination with books? When did you start writing?
Writing creative stories and clicking pictures was a fascination that dawned upon me very early on in life.
I was barely nine years old when I developed the skills of planning and writing full length creative stories. I must have been about twelve when I co-wrote and acted in my first theatrical play.
It was through theater, that I started being recognized as an actor. I then ventured into TV shows, short films, music videos and guest appearances in feature films.
Obviously, I didn't progress as a writer ever since I stepped into the modeling world but I kept nurturing the spirit and passion of a writer.
And through the darkest period of my life, my closest companion had been my manuscript, which although fictional, has been fabricated from my personal experiences and emotions. It's now a record of almost everything that transpired in my life so far.
Who are your favorite authors to read? What is your favorite genre to read. Who Inspires you in your writings?
J.K.Rowling takes the crown on that one.
Mystery or comedy would be my preferred genre. Sometimes you need a bit of life's challenges to endure. Else, life as we know it, would be pretty much boring. And sometimes, just to maintain your sanity, you need to tip the scales towards some light comedy.
For this book, my biggest inspiration has been my mother, who loved reading mystery/romance novels and always dreamed of writing one herself. But, she passed away before she even began to do it. She had this idea that a novel should appeal to people on every level – mystery, romance, action and humor. And that's exactly what I bring to you with this novel.
So, in a huge way, this is me fulfilling her dream for her and I hope she is as proud of it as I am.
Tell us a little about your latest book?
The Maze (Dark Shadows) is a New York City based crime fiction novel with a psychological hook, leaving you trapped, haunted, and questioning everything you have ever come to know.
With gruesome murders, strong characters, thrilling action, haunting suspense, relatable emotions, new age romance, witty humor, unforeseen twists and turns; it has something gift wrapped for all kinds of readers.
Connect with the Author on their Websites and Social media profiles