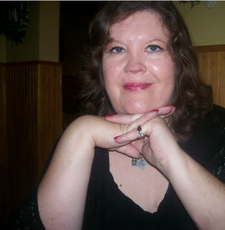 Featured Interview With Debbie Roppolo
Tell us a little about yourself. Where were you raised? Where do you live now?
Award-winning author Debbie Roppolo grew up in the Blackland Prairie region of Texas, where miles of grassland and her horse were her best friends. Yep, that's right–a modern day version of Laura Ingalls.
She is the author of Amelia Frump and her Peanut Butter Loving Imagination, and Amelia Frump and her Peanut Butter Loving Imagination is Cooking Up a Peanut Butter Storm, winner of a Purple Dragonfly Book Award (2013) Both books are published by DWB Children's Line.
Roppolo's stories have been published in newspapers, magazines, and in several of the Chicken Soup for the Soul books.
Cooking is her second passion, and she is an award-winning baker, and a field editor for Taste of Home magazine.
Married for over twenty years, she now resides in the Texas Hill Country with her husband John, and two children, Jonathan and Joseph.
At what age did you realize your fascination with books? When did you start writing?
When I was a child, my maternal grandmother encouraged reading by keeping a tub full of picture books near a window. I loved how I could embark on adventures and have new friends just by opening a book.
But as much as I enjoyed reading, I didn't want to be an author. I thought it was my destiny to become a vet, cure all the ill animals on my father's small farm, and in the rest of the world. That was my dream…until ninth grade…until I had to cut open a frog. It takes a special person to be a human's doctor or a vet, and decided then that I wasn't that special person.
I began writing in ninth grade, and my passion for it increased throughout high school and my college years. My first story (Some Snowballs Don't Melt) was published by Chicken Soup for the Dog Lover's Soul in 2005, and through the years, my stories have been published in newspapers, magazines, and in other Chicken Soup books. Amelia Frump and her Peanut Butter Loving, Overactive Imagination was my first book published (2011).
Who are your favorite authors to read? What is your favorite genre to read. Who Inspires you in your writings?
I love reading anything written by Erma Bombeck, or Beverly Cleary, so it's a tie between children and humor for my favorite genre. Bombeck found laughter in almost every aspect of parenting, and it's from her that I get my inspiration for my humor essays.
Cleary's characters (Ramona and Beezus) were ones that I could empathize with when I was a child. They encountered the same problem I did in school, and to me, that made the stories more believable. When writing my books, I too try to create characters that are adventurous, but who are aren't perfect, and have problems my readers can identify with.
Tell us a little about your latest book?
I am writing and illustrating the third book in the Amelia Frump series, Amelia and the Billion-Cajillion Dollar Secret.
In this book Amelia Frump is best friends with Julie, a classmate she's known since kindergarten, and Amelia believes nothing will end that friendship. Nothing, until a new girl moves into the neighborhood.
Meagan Wells is a sweet, fun-loving girl (Amelia's age) who's moved far away from her old friends and school. Julie and Meagan form an instant friendship, and Amelia begins to feel left out, and as exciting as a brown paper bag.
There's a secret that Amelia's teacher, Mr. Perez, has for the class, and Amelia is dismayed when she's partnered with Meagan.
Amelia turns to her imagination for help, but something goes horribly wrong, and she struggles to correct everything before it's too late.
Buy the book on Amazon.
Connect with the Author on their Websites and Social media profiles