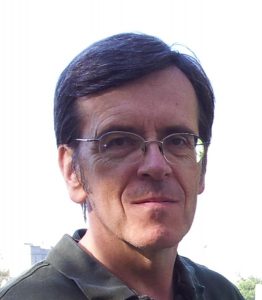 Featured Interview With Danko Antolovic
Tell us a little about yourself. Where were you raised? Where do you live now?
I was born in Croatia, in the city of Zagreb. I finished college there, and then I went on to live and work in three other countries: Belgium, United States and Japan. I went to graduate school in Baltimore, Maryland, and I have lived in United States most of my life. Currently, I live with my spouse Laurie in Bloomington, Indiana, and I work at Indiana University.
At what age did you realize your fascination with books? When did you start writing?
I hardly remember an age at which I did not read – I must have been reading actively ever since I learned how to. The earliest books I remember vividly are the children's novels about Doctor Dolittle, the man who could speak to animals, by Hugh Lofting. These novels opened for me an early window into the wide, fascinating world that lies beyond childhood…
As a scientist and technologist by calling, I have written technical and scientific stuff all of my professional life. I have found an inspiration for non-technical writing in the recent years: I find that there is a great divide between the techno-scientific world and the humanities, yet we are human beings on either side of the divide, capable of appreciating both.
Who are your favorite authors to read? What is your favorite genre to read. Who Inspires you in your writings?
There are many writers whose writing I appreciate, but if I had to name favorite authors, I think that I would select Thomas Mann and Lewis Carroll. The former has a keen observing eye and an understated sense of humor that appeals to me; the latter's stories are such an irresistible combination of shy reticence and all-out adventurousness that it is impossible not to be charmed by them.
I like the surreal and borderline fantastic stories, such as those written by Mikhail Bulgakov and Italo Calvino. Classical Greek mythology has also been part of my intellectual world all my life, and I always find something new and interesting in these ancient stories. Among the authors whose ideas have influenced my recent work, I would count primarily the philosophers Rene Descartes and Gottfried Leibniz.
Tell us a little about your latest book?
My latest work is a collection of essays titled "Whither Science?" In our times, science has become something of a surrogate for magic, a wondrous, obscure craft practiced by the craft's masters, and from this craft we expect marvelous things. But science is really all about discovering factual truth and banishing magic, and in my book I attempt to lift the veil of magic from the practice of science.
In every modern society science is an important public activity, like trade, education or national defense. Behind its veil of wonder, scientific activity is driven by commonplace human ambitions and beset by commonplace human failings, but the veil has spared science the accountability that is expected of most public undertakings. Behind its magical image, science has become a self-serving institution, and it is failing both the public common good and its own noble ideals. I hope that a better public understanding of the process of science will restore this accountability.
On the other hand, for all its present shortcomings, science has undoubtedly given us enormous power, and it has changed our world beyond recognition. Yet we humans have remained the same all along, burdened by animal impulses which the techno-scientific knowledge has made vastly more destructive. I believe that the next great, redeeming task of science is to understand the human mind, and to help us make ourselves worthy of the power that it – the natural science – has given us.
Connect with the Author on their Websites and Social media profiles