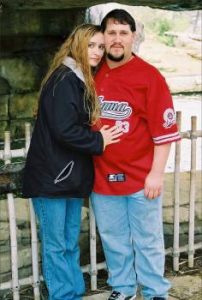 Featured Interview With Amy Pilkington
Tell us a little about yourself. Where were you raised? Where do you live now?
I was raised in a small town in Tennessee that you've never heard of. I still live in that same small town. People never knew anything about Bolivar other than it was home to the huge state mental institution. People still don't know anything more than that.
I'm married to a great guy, and we have four pretty great kids and an adorable granddaughter. We're owned by two mutts that we are happy to have as our family. We camp. We travel. We want to be beach bums when we grow up. That's us. We're the great family with the weird last name that nobody can remember or pronounce.
At what age did you realize your fascination with books? When did you start writing?
I always loved books. Before I could read, I loved someone to read to me. After I learned to read, I spent a great deal of time doing just that. As a kid, I was always sent to my room or told I couldn't watch television as punishment. I never saw it as punishment. It was extra time to read in peace.
I read a lot to my granddaughter, and she has that same love of books. It makes me happy to see her so interested in books. My own children never had that same love of reading, and I am thrilled to see it pop up in the next generation of our clan.
Who are your favorite authors to read? What is your favorite genre to read. Who Inspires you in your writings?
I have eclectic tastes, and I will read almost anything. I'm a big fan of Stephen King and John Saul. I also like V.C. Andrews. The only genre that doesn't excite me is romance. I'm not a big fan of sappy romance stories. Maybe it's because I have enough romance in my life.
I would have to say Stephen King inspires me the most. His mind is twisted, but people love him and anxiously await his new releases. If he can reveal the dark depths of his sick mind, so can I. King is brilliant. He's scary, but he is brilliant.
Tell us a little about your latest book?
Takaani is my first horror novel. I had attempted horror before, but I was scared by just how dark parts of my mind could be. I finally realized it was a talent and started working on this book.
It took me a lot longer to write than it should have. My teenage son had some major health issues. Seven surgeries later, he's fine, but I took off eight months in the midst of writing the book. I worried I wouldn't be able to get back into the story. It took some time to get it building in my head again. After that, it came out with a plot twist that even I had not imagined. I think it came out better in the end, and I will never forget writing it.
I changed two of the character's names near the end. I realized that I wanted to use Takaani as the name of the book. I just liked it. I had to change the name of two characters to make that work, and I had to remember the name changes while I wrote the ending. It was a bit awkward, because the other character was still Takaani to me.
Connect with the Author on their Websites and Social media profiles