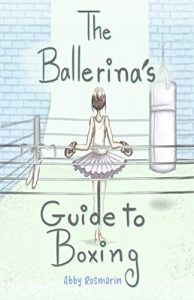 About The Ballerina's Guide to Boxing:
After losing both her neighbor to suicide and her friend to a drunk driving accident, Lily — a talented ballerina on the verge of going pro — stuns everyone and quits ballet. Ostracized from her family and grappling with emotions that she can barely understand, Lily starts wandering her city — and stumbles upon a boxing gym inside a repurposed fire station. Under the guise of working at a local coffee shop, Lily secretly begins training. What happens next is a summer of discovery, of adventure, and of learning what it means to be strong, to stand up for yourself, and to be part of a family.
Buy the book, and follow the author on social media:
Learn more about the writer. Visit the Author's Website.
Buy the Book On Amazon.
Visit the Facebook Fan Page.
Visit the Twitter page.

Author Bio:
Abby Rosmarin is the author of several books, including The Secret to a Happy Marriage, Venom, In The Event the Flower Girl Explodes, and others. Her work has been featured on The Huffington Post, Bustle, Storgy Magazine, Chaleur Magazine, the Bangalore Review, the Esthetic Apostle, Literally Darling, xoJane, and others. A former model and current yoga teacher, Abby currently resides in New Hampshire.