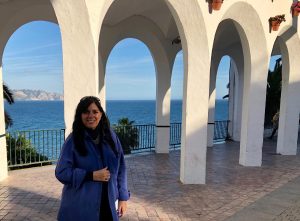 Featured Interview With Nancy Farkas
Tell us a little about yourself. Where were you raised? Where do you live now?
I was raised New York. I studied Psychology and English Literature at New York University. As undergraduates, my friend and I harmonized at a coffee house in Greenwich Village every Wednesday night. I always dreamed of becoming a singer; I never intended to become a writer, but certain events inspired me. I continue to live in New York with my husband. My children and grandchildren live nearby. I am sorry to say that I am no longer a pet owner. My dogs have a permanent place in my heart and a prominent place in my writing.
At what age did you realize your fascination with books? When did you start writing?
My fascination with books followed closely behind my love of the cinema. Often I would watch a film that was based on classic literature, then "devour" the source material.
After my three three children left the nest, I developed a love of writing and did my best to perfect my craft. I particularly enjoy writing about the true events of my past, then fictionalizing episodes when the truth just does not seem interesting enough.
Who are your favorite authors to read? What is your favorite genre to read. Who Inspires you in your writings?
My favorite authors are James Michener, William Somerset Maugham, Lawrence Block, and Bill Bryson. I spend most of my time reading non-fiction; mainly books about linguistics, and travel. I am inspired by the members of my local authors society and writers workshop, all of whom are published authors.
Tell us a little about your latest book?
My first and only novel, This Nearly Was Mine, was published in 2013. The ebook version went on to become an Amazon Bestseller in three categories in 2015. This autobiographically inspired work takes the reader on Annie's journey through many European countries in the years following her studies. Once the protagonist lands happily in New York, she goes on to marry the love of her life and have a successful career, all the while raising children and dogs. When Annie's past unexpectedly came back to confuse her very existence, she began writing a novel that seemed to complicate her life even more.
Connect with the Author on their Websites and Social media profiles