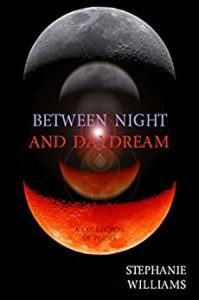 About Between Night and Daydream: A Collection of Poems:
Between Night and Daydream is a collection of poetry seeking to echo God in the midst of passions and to find inner voice in a world that constantly encourages us to drown it out. On the surface, these poems are mere reflections. But at a deeper level, Between Night and Daydream instills some sort of glimmering peace in the midst of meandering thoughts.
Categorized roughly as a conglomeration of fantasy, surrealism, and Christian poetry, these poems focus on both word and thought, combining themes of emotionalism and expressionism.
Buy the book, and follow the author on social media:
Buy the Book On Amazon.

Author Bio:
Stephanie is a writer from Delaware who has a strong passion for the human condition, philosophy, knowledge, and spirituality. Her writing aims to intersect the schisms between light and dark, and to reconcile the dichotomy between transcendent and immanent realms of reality. She has published a book of poetry with eLectio, and has also been published in a few poetry magazines such as Melted Wing, The Misty Review, and Virtual Artists Collective. She hopes to one day fulfill her dream of being both an evangelist and wordsmith. Her favorite color is blue and her favorite word is "crepuscule."