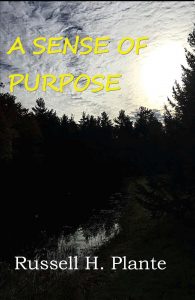 About A SENSE OF PURPOSE by Russell H. Plante:
The struggle to survive, the determination to complete something meaningful, and the intertwining of our lives with the relevance to others are the heart and soul of this insightful book. Orphaned on the streets of Manhattan, a cat named Chester begins a life-changing journey to a dark wetland forest on the coast of Maine. An ancient neglected graveyard, sketches by a young artist revealing the secret of a lost father, a life-threatening blizzard, the arduous search for a missing friend, the struggles of a feral mother cat with her four kittens, and terrifying encounters under the halo of a moonlit night are all manifestations that forever change Chester's outlook on life. Inspired by actual events, this is a philosophical story for all ages about life's journey from the perspective of a cat — a journey that teaches us the things we do in life, no matter how small, can affect others in so many ways and that every living being has a sense of purpose…
Buy the book, and follow the author on social media:
Learn more about the writer. Visit the Author's Website.
Buy the Book On Amazon.
Visit the Facebook Fan Page.
Visit the Twitter page.

Author Bio:
Russell H. Plante is an Engineering Physicist with a Bachelor of Science Degree in Engineering Physics from the University of Maine, a Minor in Electrical Engineering, and post-graduate courses in Business Administration. He has held positions at the Department of Defense as a Branch Head in Control Engineering, Welding Engineering, and Quality Control Engineering Analysis. During his tenure at the DOD, he was appointed by the University of Maine Physics Department to provide an industrial perspective relative to education. Maintaining additional engineering positions in Solar Energy development and analysis, he has received awards for Solar Building Engineering Design from the State of Maine Office of Energy Resources and for Energy Innovation Technologies from the U.S. Department of Energy. With a diverse writing background, he has had two academic/nonfiction publications regarding photovoltaic and solar domestic hot water energy applications published by John Wiley and Sons, Inc. and Academic Press (Elsevier). In addition to his non-fiction works, he has had a Young Adult novel, "Journey Home – A Cat's Tale", published in 2016 and an Adult-Visionary political novel, "Beware the Dither Bird", published in 2018. His second novel was an award-winning Finalist in the Best Book Awards sponsored by American Book Fest and received the 2020 Finalist Eric Hoffer Montaigne Medal Book Award in the category for the most thought-provoking novel. "A Sense of Purpose" is his third novel. He has recently completed his fourth novel, "The Path Before Me" and is currently writing a philosophical Science Fiction novel. He resides in the State of Maine with his wife Kathy and seven cats where there's always a chance of a blizzard during the cold winter months and time to contemplate and create meaningful stories. Reviews and information regarding his books are available at Amazon, Barnes and Noble, website, LinkedIn, Goodreads, and a Facebook Author Page.