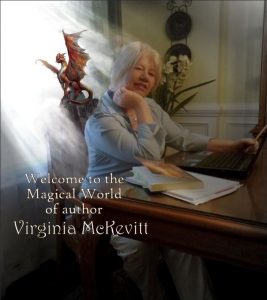 Featured Interview With VIRGINIA MCKEVITT
Tell us a little about yourself. Where were you raised? Where do you live now?
I was born in Long Beach, California, but lived most of my life in the suburbs of New Orleans, Louisiana, the place I call home. I have been married to my best friend and lover for over forty years (gah, I know, right!). I have a daughter and two beautiful grandsons who are spoiled rotten. My other children include Oreo (a Border Collie) and Davey (a twenty pound cat).
I has been many things in life; a wife, a mother, a salesperson, owned a landscaping business and raised horses. Hurricane Katrina, a curse to many, changed my life. The business gone and family scattered, I moved to Alabama, then to the mountains of Georgia.
Life goes on, so when I found the first chapters of a manuscript I had started while still in New Orleans, I sat down at the computer and never looked back. My crazy imagination and love for fantasy has culminated into a story I hopes will captivate anyone who loves a good journey. Fracture The Secret Enemy Saga, started so many years ago is the beginning of the road. The Hunted and Secrets is the continuing journey, with Destiny to be released in 2016. Where do I go from here? Who knows where the road will lead.
At what age did you realize your fascination with books? When did you start writing?
I started reading when I was about four years old. I have a sister who is ten years older than I am and she loved to read to us little ones (I come from a family of eight) all the time. She was the one who taught me to read.
That is when my love for reading and fantasy really began. My imagination was always off the charts, and reading books like Little Red Riding Hood, Snow White, and Cinderella, only added fuel to the fire. Disney's Snow White is the first book I remember reading by myself. I carried that little book around with me until it fell apart.
As I got older my taste changed, but not my hunger for fantasy or reading. I would write little stories about fairies, dragons, wizards, and kings. My teen years were vampires and the baddies that run around today. It's funny how the circle continues.
Who are your favorite authors to read? What is your favorite genre to read. Who Inspires you in your writings?
Some of my favorite authors are- Dean Koontz, Stephen King, Anne Rice, and James Patterson. I could go on… Anne Rice in my teens, Stephen King forever, and the rest just followed. Fantasy and science fiction are my favorite reads, but I do like mysteries and thrillers. My taste in reading also spills over into the movies and television shows I like. I am a character driven writer and I want that in a movie or TV show. My all time favorite books are Anne Rice's Vampire Chronicles, along with Grimm as my fav TV show.
Tell us a little about your latest book?
Book four of Fracture the Secret Enemy Saga is titled, Destiny. This series is an arcing relationship between two people and their alternate worlds. The story is spread over several books and you can read more about this story at Amazon.com.
Book four finds our heroes with a new villain to conquer, a voodoo priest who has the power of fallen angels at his fingertips. Ruthless and insatiable, he will stop at nothing to control the city he once called home, New Orleans.
Will Tegrin and Kristina prevail, or will the power of black magic be to strong for the two to overcome?
Connect with the Author on their Websites and Social media profiles
VIRGINIA MCKEVITT Facebook Page