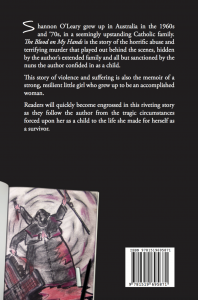 Featured Interview With Shannon O'Leary
Tell us a little about yourself. Where were you raised? Where do you live now?
I grew up in Australia in the 1960s and 70s, and it was not a conventional childhood. I was brought up in NSW with the National Park as my backyard. As a child I had many pets, goats, chickens, cats, dogs and guinea pigs. Today I have two cats and two dogs and I spent my time between the rural central Australian slopes and Sydney, NSW. I love all the creative arts and I teach music and singing. I also write films, music and songs as well as books and poetry.
At what age did you realize your fascination with books? When did you start writing?
I started reading at an early age and I spent many hours during and after school in libraries. I was a read-aholic and loved that books could transport me into another world. As a child, I also wrote songs, poetry and short stories so I guess writing has always been second nature to me. What I can't say vocally I can express through my written words.
Who are your favorite authors to read? What is your favorite genre to read. Who Inspires you in your writings?
I like to read a wide variety of texts both fiction and non-fiction. I like to read Bill Bryson and MD Scott. I also like to read the classics such as the Bronte sisters books, Dickens and Shakespeare. I also love to read historical novels and scientific research papers.
Tell us a little about your latest book?
My latest book is a memoir about my childhood years. It is a shocking and yet compelling story. When I wrote The Blood on My Hands, I decided to write it from the perspective of my childhood self. My father was a serial killer capable of the most horrific acts of violence. The laws in the 1960s and 70s did little to protect those in an abusive situation. Many child-abuse cases were swept under the rug, as there were not laws in place to protect children. Domestic violence was prevalent, and wives were expected to do what they were told by their husbands. The Catholic Church frowned upon divorce, and people were scared of social repercussions.
I wrote my story do I could get some closure. I also sincerely hope that in sharing my experiences, some light may be shed on the whereabouts and stories of the other victims. I also hope that those who are in violent situation get out of it and seek help.
Connect with the Author on their Websites and Social media profiles