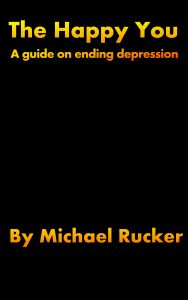 Featured Interview With Michael Rucker
Tell us a little about yourself. Where were you raised? Where do you live now?
I'm an introvert and spend most of my time indoors. I often fill my time dabbing in stories and playing video games. The books I make tend to be raunchy and full of rambunctious characters. When I'm not writing novels, I draw from experience and write self-help books. If there is one thing I value most in this world, it's family.
At what age did you realize your fascination with books? When did you start writing?
I've loved books since an early age and I've been writing since I was twelve.
Who are your favorite authors to read? What is your favorite genre to read. Who Inspires you in your writings?
My favorite author is Steven king(cliche' I know). My favorite genre is sci-fi. My inspirations stem from movies.
Tell us a little about your latest book?
Stop! Put down that gun, drop that knife, and loosen that noose. I'm about to tell you how to conquer that pesky depression. Whether it's the loss of friends, death of a family member, or worse, this short guide will have a solution for you.