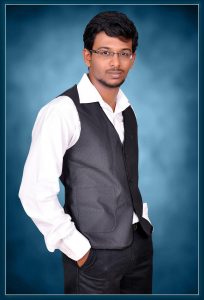 Featured Interview With M Ganesh Sai, Success Coach, Motivational Speaker and Author
Tell us a little about yourself. Where were you raised? Where do you live now?
I was born in Chennai, India. I was brought up both in Chennaii and Hyderabad. Here is my author bio:
M. Ganesh Sai is the founder of MGS Leadership Consultants India. He is a Success Coach, Motivational Speaker and Author of five books including the award-winning book Success Can Be Yours, Short Stories to Share – Get Inspired, Smartness Guide – Success Tools for Students, Skills for Your Career Success: Touch Your Tipping Point and Soar Like Eagles! Success Tools For Freshers. His articles have been featured in prestigious international publications including Personal Excellence, The Journal of Values-Based Leadership, USA http://scholar.valpo.edu/jvbl/vol7/iss1/10 Full Issue http://scholar.valpo.edu/jvbl/vol7/iss1/. He has been listed as one of the leading achievers around the world in Marquis Who's Who in the World in 2014. His areas of interest include Success, Leadership, Motivation, Career and Personality Development. He coined an innovating learning tool 'Play and Learn' and it has been published by Training Journal, UK. Microsoft in Education featured his interview on Indian education in 'Daily Edventures': http://dailyedventures.com/index.php/2014/01/30/m-ganeshsai/ Testimonials by internationally acclaimed leadership gurus including Marshall Goldsmith, James Strock, and Tony Alessandra are located at the following link: http://www.linkedin.com/pub/m-ganesh-sai-author/34/262/202 His Amazon URL: http://www.amazon.com/Skills-Your-Career-Success-Tipping/dp/935023808X/ref=sr_1_139?s=books&ie=UTF8&qid=1359113183&sr=1-139 His Facebook Page URL: https://www.facebook.com/pages/M-Ganesh-Sai/471536619627802 His YouTube channel URL: http://www.youtube.com/channel/UCl8A_Zx55ZRVn_2YR4i0eEQ He maintains a popular blog: http://mgshyd.wordpress.com. He can be reached at mgsauthor01@gmail.com Follow him https://twitter.com/mganeshsai
At what age did you realize your fascination with books? When did you start writing?
I am passionate about training and authoring books. I started authoring books from 2011. I started writing for newspapers when I was 12 years old. I started blogging and created my Facebook page. Currently I enjoy reading, writing, teaching and training. I coined a new concept 'Play and Learn' which is an innovative way of learning.
Who are your favorite authors to read? What is your favorite genre to read. Who Inspires you in your writings?
I read various types of books mostly on leadership, motivation, coaching, and soft skills. My father, ProfessorM.S. Rao is my inspiration behind my writings and books.
Tell us a little about your latest book?
"A small body of determined spirits fired by an unquenchable faith in their mission can alter the course of history." – Mohandas K. Gandhi The book offers tools to achieve success and to fast-track your career. It unveils the skills essential for freshers to succeed in employment interview. It inspires students to dream and achieve big. This book Outlines the roadmap for students' success. Elaborates various aspects of education, employment and emotional intelligence. Introduces 'Play and Learn' Method – an innovative learning tool for students. Addresses fresher's concerns and equips them with clarifications. Implores them to add value to soar like eagles. Urges educators to help successful students to become even more successful. It is an inspirational book for students, parents, learners, and leaders. You can easily toss the book into a briefcase, or purse and read here and there as time allows. Contents PART I – STUDENTS: 1. Lead India 2. Power of Students 3. Cultivate an Ambitious Mindset 4. Don't Compare with Others 5. Chess and Success 6. 3 Aspects to Achieve Success 7. Understand Id, Ego and Super Ego 8. Set Your Goals 9. Spot Your Talents and Build Skills around them 10. The Skills the Employers Look for in Freshers 11. Attitude is Your Asset 12. Acquire Aptitude 13. Be Effective to Achieve Greatness 14. Be an Example to Excel as a Leader 15. Manage External Threats to Excel as a Leader 16. Participate in JAM Sessions 17. Blend Hard and Soft Skills 18. Acquire Smart Skills to Stand out as a Smart Leader 19. Possess Inquisitiveness 20. Learn Effectively 21. Read Your Manuscript Aloud 22. Manage Your Time 23. Employment is not an Affair between the Employees and Employers 24. Stay Away from Suicidal Tendencies 25. Build Your Brand 26. Build Your Fan Base 27. Make Peace to Progress PART II – EDUCATORS 28. Education versus Experience 29. Education is not for Employment Alone 30. Educatio
Connect with the Author on their Websites and Social media profiles
M Ganesh Sai, Success Coach, Motivational Speaker and Author's Website
M Ganesh Sai, Success Coach, Motivational Speaker and Author Facebook Page
M Ganesh Sai, Success Coach, Motivational Speaker and Author Twitter Account