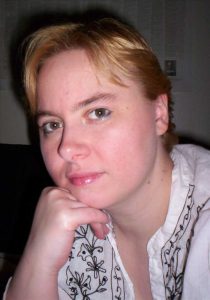 Featured Interview With Lyra Shanti
Tell us a little about yourself. Where were you raised? Where do you live now?
I was raised in Bellingham, Washington among the trees and mountains until I was brought to ultra sunny South Florida where I still reside. I have two insane cats name Pan and Kirry (Kirjava. Yes, I'm a Philip Pullman fan) and I live with them, and my beloved other half, Timothy.
At what age did you realize your fascination with books? When did you start writing?
At about seven years old, I started writing songs and little stories. I then made up my own small plays and ballets. By the time I reached my twenties, I wrote extensive poetry and co-wrote plays/musicals with my partner, Timothy. In my thirties, I tried my hand at novel writing, and the epic sci-fi series, Shiva XIV was born.
Who are your favorite authors to read? What is your favorite genre to read. Who Inspires you in your writings?
My favorite genres are sci-fi and fantasy because of the freedom and imagination it inspires. However, I'm open to most fiction, (except for extreme horror or erotica.)
I've been greatly inspired and influenced by Hermann Hesse, author of Steppenwolf and Siddhartha. I also love J.K. Rowling, J.R.R. Tolkien, Robert Pirsig, and Philip Pullman.
Tell us a little about your latest book?
My latest book is The Veil of Truth, the second installment in my Shiva XIV series.
Shiva XIV is the story of Ayn, a boy who is predestined to conquer the disease and war rampant throughout his galaxy. He is raised by priests and extremely sheltered, but when shocking events turn his world upside down, he is forced to decide his fate. The story has adventure, intrigue, romance, and myth.
I'm editing the third book, getting ready for an autumn release, and I've just finished writing book 4, which ends the main story arc. I am planning a prequel book as well, but that won't be for some time.
All together, this is a series that has taken over my very soul for about ten years now. The story is truly a part of me, and I hope everyone who reads it will feel it becoming a part of them as well.
Connect with the Author on their Websites and Social media profiles