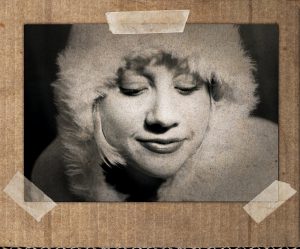 Featured Interview With Lis Anna-Langston
Tell us a little about yourself. Where were you raised? Where do you live now?
I was born and raised in the South, most notably in Tennessee and Mississippi. I attended a school for the Creative and Performing Arts and so I have always been a Writer/Director. In school I studied Theater and Literature. Writing classes came after I moved to North Carolina. I lived in the mountains there for over a decade. I wrote constantly. Now I live in an incredibly urban area in Pittsburgh. The buildings are old and intriguing. Even though it is in the city, I still have bunnies and chipmunks and deer in my yard. It is magical. I have a dog I rescued five years ago named Foxy Roxy. She's a total brat and very smart. I am also a chinchilla girl and I have one rescue chinchilla named, Ida Belle, after a character in the Truman Capote novel, Other Voices, Other Rooms. I have a cat I found living in the woods in Gettysburg named Gatsby and another cat named Huxley. Obviously they are named after the Great Gatsby and Aldous Huxley. You can see that my literary background informs my name choices. They are all unique and special snowflakes and if you follow me on Instagram, I occasionally take photos of them and post.
At what age did you realize your fascination with books? When did you start writing?
When I was three years old someone bought me a stack of preschool workbooks for kids. I was so crazy happy to have something to do that I took them all into my bedroom and finished them over the course of about three hours. No one ever taught me to read. I just knew how. I remember sitting down with the workbooks and realizing they made so much sense. After that, I began reading books. I loved books. I was not allowed to watch TV because my grandmother said it would rot my brain. So I read all of the time. By the age of five, I knew I wanted to be the "one to put the words inside the books". I didn't know what it was called or how you did it but I wanted to be the one to do it. I started writing in middle school. Poetry and songs mostly. By high school I was committed to writing and spent most of my time reading, writing or performing at school.
Who are your favorite authors to read? What is your favorite genre to read. Who Inspires you in your writings?
Some of my favorite authors are Milan Kundera, Gabriel Garcia Marquez (who I won an award for writing about), Jane Mendelsohn because I love her style and her sparse, intense writing, Stewart O'Nan because Last Night at the Lobster is one of the best books I've ever read, Suzanne Collins is an excellent writer, Michael Ondaatje is incredible. I love lush, intense, deep writing that transports me to more than a place or time, but actually confers the feelings and emotions in such a way that I feel changed for having read that particular book.
What inspires me? Writers like Stephen King. Seriously. The work ethic, the talent, the ability to produce material and entertain your audience decade after decade. I read very little of his horror but his books like 11/22/63 and Different Seasons are marvelous books and I am awed every day by writers with this level of commitment to their craft.
Tell us a little about your latest book?
This book started out as a series of stories crafted in a class I took in North Carolina. In Madison, WI I had been a part of a poetry group and we met and performed. Performance art is so different from the actual writing of the piece but I also feel like spoken word sort of transforms writing. So in the class we read our pages aloud. My classmates loved the stories. It really shocked me how much they loved them and encouraged me to keep writing. So I kept writing these stories with the same characters until I filled four notebooks and had to get serious. I felt like the material belonged in novel form and not as a series of short stories so I set myself to the task of creating a plot and rising action for these particular characters. This book evolved over the course of about eight years. I worked through the night when doing rewrites. I came to love these characters for all of their broken dreams and flaws. I came to love how they survived.
Connect with the Author on their Websites and Social media profiles
Lis Anna-Langston Facebook Page