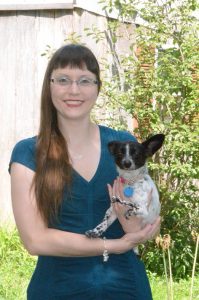 Featured Interview With Lauren Kramer-Theuerkauf
Tell us a little about yourself. Where were you raised? Where do you live now?
I began writing at an early age. While in grade school, I was the recipient of two Young Author Awards (1994, 1997). In high school, I became the only freshman member of the yearbook staff where I took my own photographs and wrote stories about the happenings at Freeburg High.
I went on to receive her Bachelor of Science degree in Mass Communications-Print Journalism from Southern Illinois University Edwardsville. While there, I earned the Outstanding Student in Journalism award in 2006. I am the former Editor of The Fairview Heights Tribune as well as the Clinton County News in Mascoutah, IL.
I have written numerous articles and feature stories that have been included in the above mentioned papers as well as The Freeburg Tribune and the Mass Communicator magazine for Southern Illinois University Edwardsville.
Priceless Penny is the second book that I have written. The first book is a collection of poetry entitled More Than Words that was published in 2010. In 2015, I created my own publishing company called Theuerkauf's Tails, LLC. I am also an active member of the Society of Children's Book Writers and Illustrators (SCBWI), Independent Book Publishers Association (IBPA) and the Dog Writers Association of America (DWAA).
I currently live in Freeburg, Illinois with my husband, Matt, and 5 rescue dogs and 2 cats.
At what age did you realize your fascination with books? When did you start writing?
I was always fascinated with books ever since I was three years old. I was also writing my own "newspapers" for my parents to read. While in third grade, my teacher had each student write a short story. Mine was entitled "The Dancing Doll." The story was about a doll that came to life at night without the makers knowledge. I was completely surprised when I received my first Young Authors Award for the story.
In sixth grade, I wrote another story entitled "The Note in the Bottle." This story was about a colonial girl moving to the New World with her family. While riding on the ship, she discovers a message in a bottle from a girl her own age. I was very excited to be honored with a second Young Authors Award for this story. From then on, I knew that I was meant to write!
Who are your favorite authors to read? What is your favorite genre to read. Who Inspires you in your writings?
My favorite author to read is also the author who most inspires me: Brian Jacques. He was the author of the amazing Redwall series. My favorite book of all time is Martin the Warrior. Jacques was able to create complex worlds that you could actually visualize in your mind as you read his books. His characters were always unique and Jacques went into great depth so that his heroes and heroines were not one dimensional.
Tell us a little about your latest book?
My latest book, Priceless Penny, chronicles one dog's amazing journey from solo stray to pampered pooch. Penny was abandoned by her previous owners and left to roam the streets of California alone. She was soon taken to a local high kill shelter. Penny's life was in great danger and her deformities made her undesirable in the eyes of would-be adopters.
Penny's allotted time at the shelter was quickly drawing to a close. She had nowhere to go, no one to love. Then, one day, a woman entered the shelter and discovered Penny. Little did Penny know that she was about to embark on the journey of a lifetime.
This is an uplifting, true story as told from Penny's perspective. From the book's inception, it took two and a half years to create.
Connect with the Author on their Websites and Social media profiles
Lauren Kramer-Theuerkauf's Website
Lauren Kramer-Theuerkauf Facebook Page