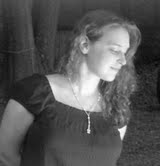 Featured Interview With Jennifer Allis Provost
Tell us a little about yourself. Where were you raised? Where do you live now?
Jennifer Allis Provost writes books about faeries, orcs and elves. Zombies too. She grew up in the wilds of Western Massachusetts and had read every book in the local library by age twelve. (It was a small library). An early love of mythology and folklore led to her epic fantasy series, The Chronicles of Parthalan, and her day job as a cubicle monkey helped shape her urban fantasy, Copper Girl. When she's not writing about things that go bump in the night (and sometimes during the day) she's working on her MFA in Creative Nonfiction.
At what age did you realize your fascination with books? When did you start writing?
I've always made up stories, but I didn't think about publishing until 2008. I'd just finished my first full-length novel, and I remember looking at it like, well, now what do I do? And here i am, seven novels and a handful of short stories later.
Who are your favorite authors to read? What is your favorite genre to read. Who Inspires you in your writings?
There are so many authors I admire: Robin McKinley, Neil Gaiman, and Nalini Singh, to name a few. Fantasy is my favorite genre, but I'll read just about anything.
Tell us a little about your latest book?
My latest release is The Virgin Queen, the second in my epic fantasy series The Chronicles of Parthalan. It follows the titular queen, Asherah, as the peace she so carefully built for her people is destroyed.
The novel itself took me about six months to write, which is about standard for me. it was completed back in 2011, but the original publisher of the series folded so Parthalan had to find a new home.
Connect with the Author on their Websites and Social media profiles
Jennifer Allis Provost's Website
Jennifer Allis Provost Facebook Page