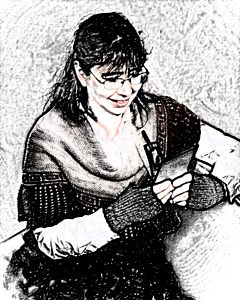 Featured Interview With Jane Lebak
Tell us a little about yourself. Where were you raised? Where do you live now?
I write books and knit socks. Both are warm.
I live in the Swamp with my Patient Husband, four kids, three cats, and four fishtanks. The fish are kind of a surprise, but let me warn you: betta fish are like a gateway drug. I've also had a lifelong fascination with angels, and I hope my house is filled with them.
At what age did you realize your fascination with books? When did you start writing?
My mom saved the first book I ever wrote: at age three! I used leftover green-bar computer paper from her job, and I used a magenta crayon. It's called The Creechur, and it's everything you'd expect from a three-year-old. I've improved a bit since then.
I fell in love with books when I was ten and started devouring The Black Stallion series, followed by anything else I could lay my eyes on.
Who are your favorite authors to read? What is your favorite genre to read. Who Inspires you in your writings?
It's hard to pick one favorite genre! My favorite author of all-time is Diana Wynne Jones, hands down. No question whatsoever. Genre-wise, I love fantasy and science fiction. Historical fiction is also pretty cool, and I like contemporary fiction that focuses on families and some thriller/suspense.
Tell us a little about your latest book?
Pickup Notes is about the growing pains of a string quartet. Although it's told from the point of view of the viola player, all four players have important roles to play. You've got Harrison, the fearless and sometimes bullheaded first violinist who's driving the group. There's Shreya, the blue-haired second violinist who always seems to have one foot out the door, but whose previously-unknown talents may be their ticket out of obscurity. There's Josh, the cellist who works days as a Manhattan cabbie and also is finally coming to terms with his shame about stuttering.
One night a bride gets so drunk she forgets she hired a classical string quartet, and she demands they play Hotel California. Of course they can't do that, so one is more surprised than the other quartet members when Shreya stands up and does it. Harrison sees dollar signs and tries to incorporate this into their repertoire, but changing their roles in the quartet starts changing their friendships, and they may achieve success at the expense of losing each other.
This book was in production for six years. No one really understood it because editors and agents kept trying to make it into either a romance or a YA/New Adult novel. It's finally found its way out into the world, though, and in a way the book's own journey reflects the things the characters realize: that you have to sing your own song, no matter how little anyone else understands or approves of it.
Connect with the Author on their Websites and Social media profiles