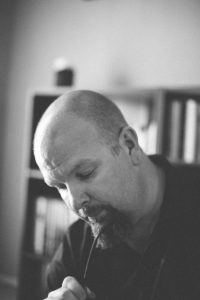 Featured Interview With Gudjon Bergmann
Tell us a little about yourself. Where were you raised? Where do you live now?
I was born in 1972, in Reykjavik, Iceland, where I lived until age thirty-seven. In 2010, I moved with my family to Texas after we found out – through a series of serendipitous events – that my wife had been a US citizen from birth, without knowing it. The chain of events was so incredible that it lead me to write a memoir titled "You Can't Have the Green Card" documenting the process for posterity.
Since 2001, I have written more than twenty nonfiction books. My debut novel was published by Flaming Leaf Press in April, 2016.
I live in a small town south of Austin, with my wife, two children, and six year old Border Collie-Lab mix named Quinn.
At what age did you realize your fascination with books? When did you start writing?
I have been fascinated with books ever since I learned how to read. I remember reading as many Morgan Kane and Enid Blyton's Famous Five books as I could get my hands on.
My first attempt at writing came when I was nineteen. I was a singer in a rock band and we needed some lyrics. During a three year period I wrote lyrics and short stories almost every day, but alas, my lifestyle got in the way.
After I quit drinking in 1999, I exclusively wrote self-developmental books, but rekindled my love affair with fiction in 2015.
Who are your favorite authors to read? What is your favorite genre to read. Who Inspires you in your writings?
My two favorite authors are Kurt Vonnegut and Ken Wilber. The two could hardly be more different. Vonnegut is a satirical novelist, while Wilber is an integral and spiritual philosopher, yet both have informed my style of writing to some degree.
Tell us a little about your latest book?
My debut novel was published by Flaming Leaf Press on 4.4.16. It is titled The Meditating Psychiatrist Who Tried to Kill Himself. It is about a therapist, named Robert Davis, who is called in as a consultant to a mental hospital in Austin, TX. The patient is suicidal, a psychiatrist who has been meditating for thirty years, says that his meditation practice was part of the reason why he tried to kill himself. The encounter sets Robert off on a quest for answers; a quest that eventually threatens everything he holds dear, his marriage, his sobriety, his therapy practice, even his sanity.
So far, the book has gotten good reviews. Readers appreciate the character development, the fast paced action, the meaning of life questions unearthed in the process, and how it captures modern day culture.
Connect with the Author on their Websites and Social media profiles