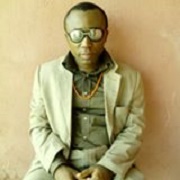 Featured Interview With Eze Eke
Tell us a little about yourself. Where were you raised? Where do you live now?
I was born on October 21, 1979 in a remote town in Imo state, a very poor region in the south-eastern part of Nigeria, West Africa. My family moved to Lagos where my father was offered a teaching job in 1981 and there I grew up, attending the prestigious Nigerian Navy schools, form nursery to secondary. He attended the Nigerian Navy Secondary School for only two years then moved on to the Lagos State Government College, Ojo, Lagos from where I finally completed his secondary education in the mid-1990 while doing part-time studies at the Lagos State University. A sinister supernatural incident almost destroyed my life in May, 1996 but certainly cut short my proposed trip to the United States for advanced studies the following year.
Today, I am self-educated to lofty levels in several academic fields and possess a vast wealth of intellectual knowledge from which I draws to accomplish my works. I am a gifted author, freelance writer, blogger and a non-profit Gospel worker. i am currently unmarried and lives a very quiet life in the city of Lagos. My hobbies are writing, reading, cycling, watching intelligent movies and helping the poor and needy.
i love to write and my ultimate goal is to tells stories in all their color and glory.
At what age did you realize your fascination with books? When did you start writing?
I realized my fascination with books at age 14. I began to write very recently at age 32.
Who are your favorite authors to read? What is your favorite genre to read. Who Inspires you in your writings?
My favorite authors are Stephen King and James Harley Chase. i was inspired to write because i felt i could do much better than most of the sub-standard works i came across so often. Once i go my first glowing reviews, i never looked back,.
Tell us a little about your latest book?
.In 2015 the extremist Islamic sect BOKO HARAM was declared #1 in the world, rising above Islamic state, ISIS. But fighting a full-fledged war with the military forces of the four African countries around the Lake Chad region, leaving thousands of innocent people dead or homeless, BOKO HARAM had occupied that position long before then…
Against all advice, a beautiful young lady travels to Maiduguri, a chaotic city in the BOKO HARAM ravaged north-eastern Nigeria, in search of her missing businessman father. She soon disappears, the four corpses of her bodyguards turn up in a canal and a mega ransom demand is sent to her billionaire uncle by a faction of the BOKO HARAM terrorist group. Since neither the Nigerian Army nor the other elements of the JTF had been any help in the search his missing elder brother, the girl's billionaire uncle quietly puts together a team of mercenary soldiers led by an ex-special forces lieutenant to negotiate with the terrorists and rescue the girl. Everything goes wrong from the beginning because everyone had a hidden agenda. The terrorists looking to keep the ransom and the girl as wife for their commander, laid a deadly ambush for the mercenaries. Three influential billionaires, led by the girl's treacherous uncles, want her dead in order to get at her father's vast business empire and fortunes to which she is sole heir.
None of them counted on the massive obstacle a single man could pose against their formidable resources. The ex-special forces lieutenant became a one-man army as he fights night and day to keep the beautiful heiress safe from her enemies. She soon learns to cling to him for protection, and then also for love. She is smart, determined to find out what happened to her father and to rule his business empire in his absence……
Reaching from the highly populated urban city of Lagos in oil rich southern Nigeria, to the high luxury capital city of Abuja where billionaire business moguls rub shoulders with powerful politicians, top military generals and bureaucrats, some good, some bad, most corrupt, they plot the future of a great nation over a few drinks even as they kill time with high priced prostitutes in overpriced hotel suites and huge luxury mansions. And then on to the war thorn cites and remote countryside of the north-eastern lands where the Islamic terrorist group, BOKO HARAM hold away, wetting the soil daily with the innocent blood of thousands of helpless they kill and many more thousands they render homeless and they battle the combined military forces of four countries.
This story unfolds with an explosiveness never seen before. It is the first novel ever written about the activities of the terrorist ravaging the Sahel Savannah region around the famous lake Chad and yet it is much, much more….
Connect with the Author on their Websites and Social media profiles