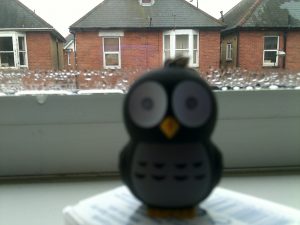 Featured Interview With Eli Celata
Tell us a little about yourself. Where were you raised? Where do you live now?
I was raised in the suburbs of Rochester, NY. The unique set up of the city and its eclectic mixture of architecture inspired my debut novel, High Summons, which is a YA urban fantasy set in Rochester. I currently live in Binghamton, NY where I am working on my PhD in Biological Anthropology. Though I don't have any pets myself, I do spoil my "fur brother" Abner who my parents rescued 5 years back.
At what age did you realize your fascination with books? When did you start writing?
As I was the youngest of three, my parents introduced me to chapter books at a young age; however, my love of fantasy took off after reading Harry Potter and the Sorcerer's Stone. My sister and I often told each other stories role playing with whatever toys we had. However, my sister's love of happy endings fought against my desire for realism and well-rounded antagonists, so I broke off and began to write on my own to satisfy my literary sensibilities. My first solid attempt at a novel happened when I was 11 years old, but it's still incomplete. I knew the ending and beginning but hadn't mastered how to get there. By the time I did, I already had moved on to a story arch that's now five books long which – though I love them dearly – will likely never be published.
Who are your favorite authors to read? What is your favorite genre to read. Who Inspires you in your writings?
I love a writer who makes me reexamine the world. In fantasy, J.K. Rowling, Garth Nix, and Neil Gaiman were my top three growing up. As a kid, I waited obsessively for the next Harry Potter, and I do much the same with the Dresden Files by Jim Butcher. I lean heavily towards fantasy and science fiction though my nonfiction and historical fiction have expanded thanks to my doctoral work. Not surprisingly, everything I read inspires me, but if I've recently read a cultural anthology, I'm more likely to dive into a world-building plot where a fictional adventure sends me on a character development streak.
Tell us a little about your latest book?
High Summons is my debut. It's basically an ode to everything I love about my native city but also about YA literature in general. My main character, Jon Blythe, is a multiracial college kid from Boston who has relocated to Rochester for college. Raised by his mother, he has only one thing from his father – magic. Well, he has the monsters too. The dark and devilish figures that he sees out of the corner of his eyes. The ones who horrify his mother.
When Jon comes across a man setting one of the monsters on fire with his bare hand, he jumps in blindly hoping for the answers he's been denied. However, the man – Jordan – might be a wizard, but he's also a demon-hunter, and if Jon wants to keep his magic, he will have to risk everything and track down the rogue magic users set on burning Rochester to the ground.
I actually wrote a first draft of High Summons in high school. In that draft, Jon and Jordan traveled all around the world fighting demons, but when I went to college elsewhere, my love for Rochester shifted the story. Honestly, it took the wanderlust mess and pulled each character into the third dimension. Between drafts and periods where I focused on other works, High Summons took five years from its first draft to finally being accepted for publication.
Connect with the Author on their Websites and Social media profiles