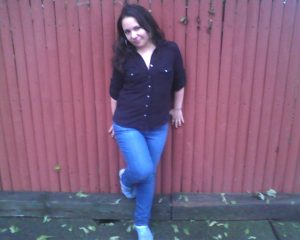 Featured Interview With Dina Spaniotis
Tell us a little about yourself. Where were you raised? Where do you live now?
My name is Dina Spaniotis. I'm one hundred percent Greek and I'm trilingual . I was born and raised in Kensington CT. I still live in Kensington, a beautiful peaceful town. I have a 4-year-old dog named Brandy who I love dearly. She's my companion through the good and bad.
At what age did you realize your fascination with books? When did you start writing?
I was around 10 years old when I realized my fascination with books. My parents were always working so I was raised by my grandparents . My grandfather was the one that inspired me the most. He passed away in Greece 12 years ago and the day after his death I realized how he truly inspired me and that I'm taking after his footsteps . He was a poet and a journalist in Greece during World War 2. His passion and escape was writing and reading. He taught me a lot about it at a young age. From that point, I always read and wrote. I would remember burying myself in my notebooks all throughout school. English and writing were my best subjects. I officially wrote my first book when I was 17, and just set it aside.
Who are your favorite authors to read? What is your favorite genre to read. Who Inspires you in your writings?
My favorite authors are Steven King, James Patterson, Tess Gerritsen and Amy Cross. I'm open to reading all genres, but the ones I favor the most are paranormal and horror . I love all things horrific , dark, and mysterious. Steven King and Amy Cross inspire me the most. They are both horror authors and I just love being sucked into their dark twisted stories. I like to mix up my writing and add many elements in them because I don't only focus on horror. I believe a good paranormal and horror story needs to have some mystery and romance as well as darkness. Both authors inspired me to go beyond my limits and comfort zone and to not be afraid.
Tell us a little about your latest book?
The title of my latest book is Drakos Return, kingdom rising. It's book 3 of my Drakos return series. I finished writing it in less than 3 months. In order for any reader to understand this series, they must read book 1 and 2 first. It's a paranormal book and has hints of action, horror, and romance. Drako is a vampire King from
England, in which he and his wife Lucretia held a special antidote by an ancient God. This antidote brought immortality and everlasting health to all who drank it. It was a miracle drink for all. Drako wanted to replicate it for the whole world but his wife disagreed . They had a daughter named Victoria who was born a psychic vampire because Lucrecia was one. Victoria was kidnapped by Drakos prince, Claude. Claude envied Drako and wanted to be the king. Aside from taking Victoria, Claude also stole the antidote and went to settle in America. He came across a human family who wanted a child of their own. They adopted Victoria for an exchange to hold on to the antidote close. Drako was on the hunt to find his daughter and Claude approached Victoria when she was 25 years old. There was something mysterious about Claude and her psychic abilities were open once she saw him. She slowly came to see him more and she realized that his presence had no good intentions.
Connect with the Author on their Websites and Social media profiles